Indoor outdoor living has been one of the most dominant architectural trends over the last few years, and it's no wonder why. The smooth transition from natural garden to human habitation creates a beautiful, functional, and seamless living space that provides a whole host of benefits for your mental wellbeing and practical needs.
One of the most effective ways to achieve an indoor outdoor living space is through elongating your indoor flooring out into your garden, something we're very familiar with at Paving Direct.
If you're thinking about blurring the boundaries in your own home, we've detailed the benefits of seamless living for you. W've also put together some of our favourite indoor outdoor flooring ideas.
4 benefits of indoor-outdoor living
1. It extends your home and provides extra space
Have you always wanted just a tad more space? Just a few extra feet to entertain more guests in the evenings or to fit in that gorgeous dining room table?
Instead of forking out for a costly extension, an indoor-outdoor space can provide you with plenty more room at a fraction of the cost. By using the same style of paving slab as your interior floor tiles, your home will feel elongated with extra space for entertaining or relaxing.
2. Biophilic design improves your wellbeing and reduces stress
Biophilia is the idea that humans have an innate desire to connect with nature.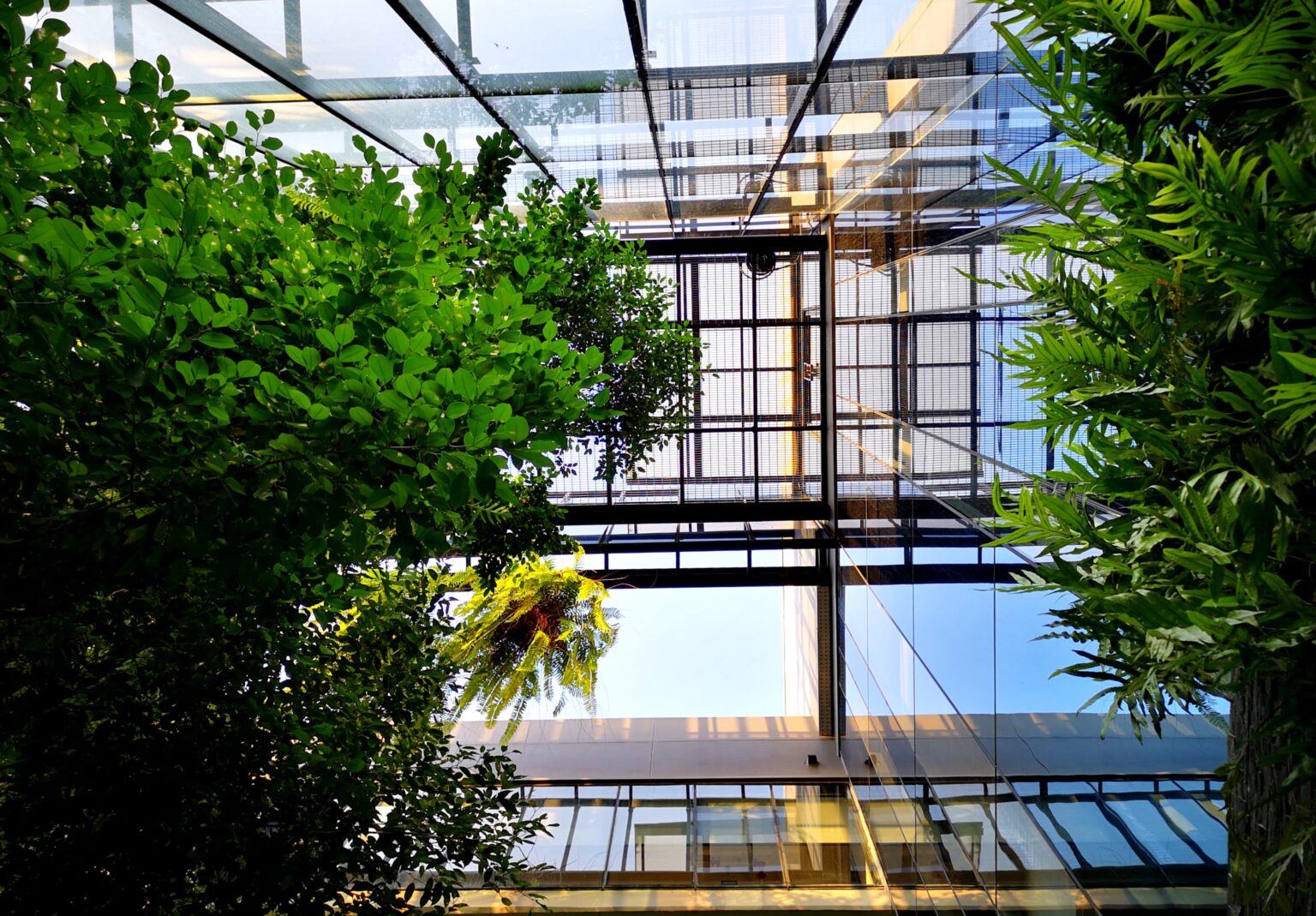 An increasingly popular concept, author Stephen R. Kellert explains that incorporating biophilia into architectural design can promote "positive interactions between people and nature in the built environment". Creating an indoor-outdoor living space is the perfect example of biophilic design, creating a harmonious natural and fabricated environment that effortlessly surrounds you in nature.
In fact, studies have shown that the presence of natural elements can help to improve both your physical and mental energy, giving people a sense of enthusiasm. Research has also provided evidence that nature contributes to overall life satisfaction – giving you all the more reason to incorporate indoor-outdoor living into your everyday life.
3. Indoor/outdoor spaces add value to your home
Re-flooring your interior and exterior surfaces is an investment – one that is worth every penny. According to a Forbes article with the award-winning architect, Kobi Karp, you could also be raising your property's value by building a multi-functional indoor outdoor living space.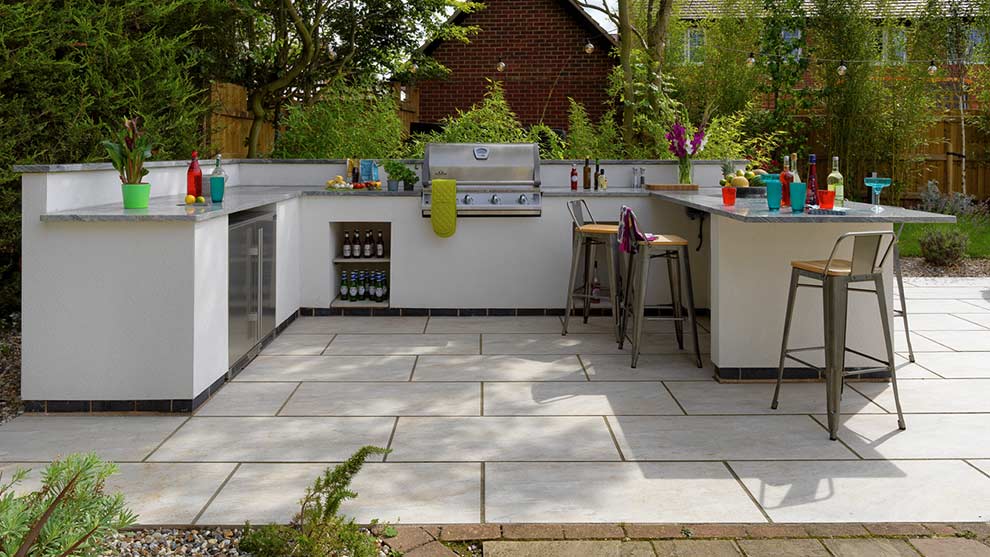 A particularly popular functional use of your outdoor space is the integration of an outdoor kitchen. This can be something as simple as a brick pizza oven or, for the keen chef, a modular kitchen with all the essentials fitted in.
Investments like this will not only improve your living conditions and ability to enjoy your garden, but they will add a considerable amount of value to your property when it's time to sell.
4. It's the perfect setting for a staycation
Just picture this, it is a warm Saturday night in mid-July. You have invited all your closest friends over for food and drinks. You unlock the patio doors, opening up your living room onto your freshly paved, spacious outdoor-indoor living area. Your friends can sit back and relax as you continue socialising by cooking in your outdoor kitchen – there's space for everyone and you're making memories that last a lifetime.
If you are in the mood to show off your new indoor outdoor living space to your friends and family, how about throwing an unforgettable garden bash? You can read our blog post on how to host the ultimate garden party to get you started.
Indoor-outdoor flooring ideas
Whether you use it in the living room, kitchen or elsewhere, you can incorporate indoor-outdoor flooring to create a flawless transition from your patio to your interior. Don't be worried about disturbing your perfectly crafted interior design style – paving slabs come in several different colours and materials, with porcelain paving even available in wood and stone finishes.
Use a texture that matches your interior
To get the truly seamless effect without redesigning your home, choose patio paving that matches the texture of your interior. If you have wooden or wood-effect interior flooring, for example, you can find a large range of wood-effect porcelain paving that's anti-slip and suitable for the outdoors. The boundary between indoors and outdoors will become blurred, creating an open and inviting space.
The same goes for natural stone, marble or slate, however porcelain is more versatile, weatherproof and can mimic a large range of different materials.
The image shows our Deckwood Porcelain Paving in Coco.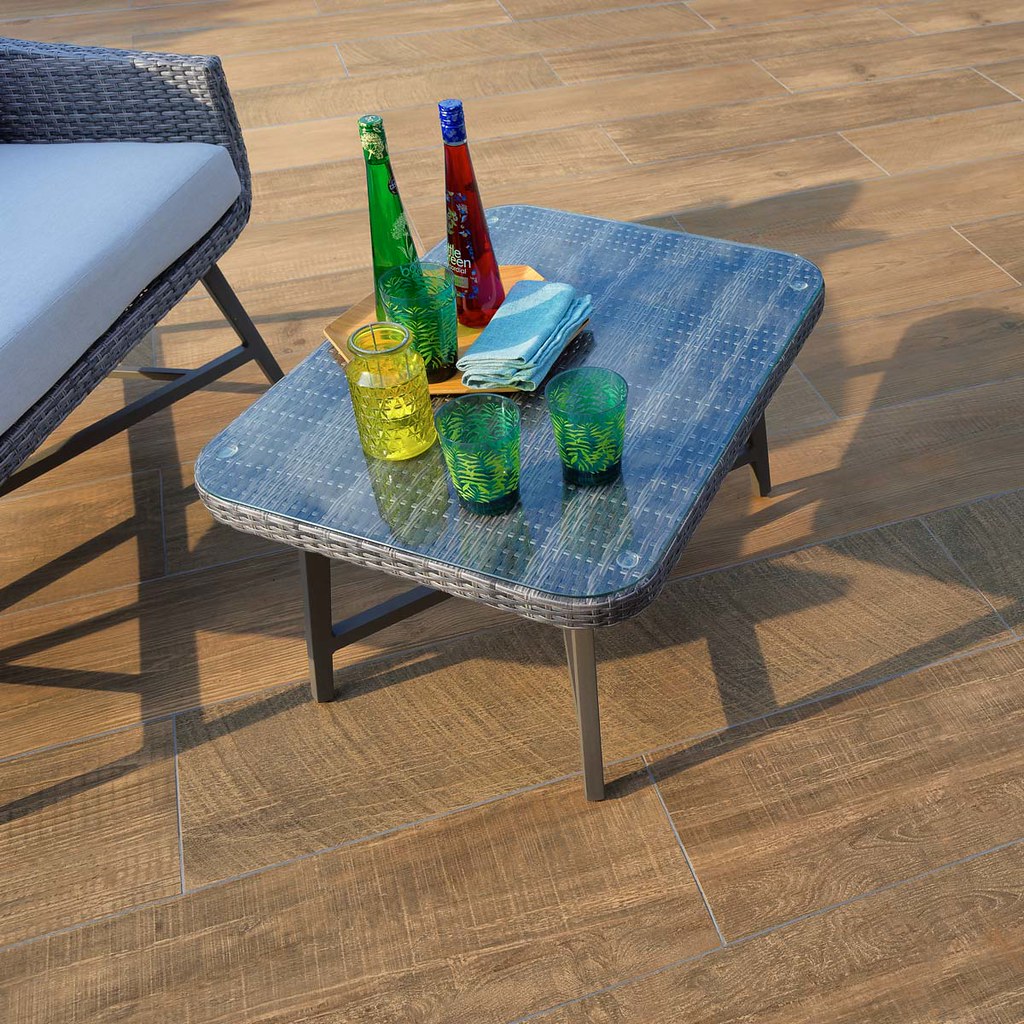 Match the colour of your indoor and outdoor flooring tiles
If you don't want to match the texture of your flooring, you can choose patio paving that sits in the same colour palette as your interior. This gives you the freedom to choose different patterns that are unique to every room, yet still achieve a harmonious living space that draws in nature.
Consider using natural, tonal colours that compliment each other nicely, while adding subtle textural differences to create interest and added dynamics.
Explore our granite paving slabs, as shown in the image.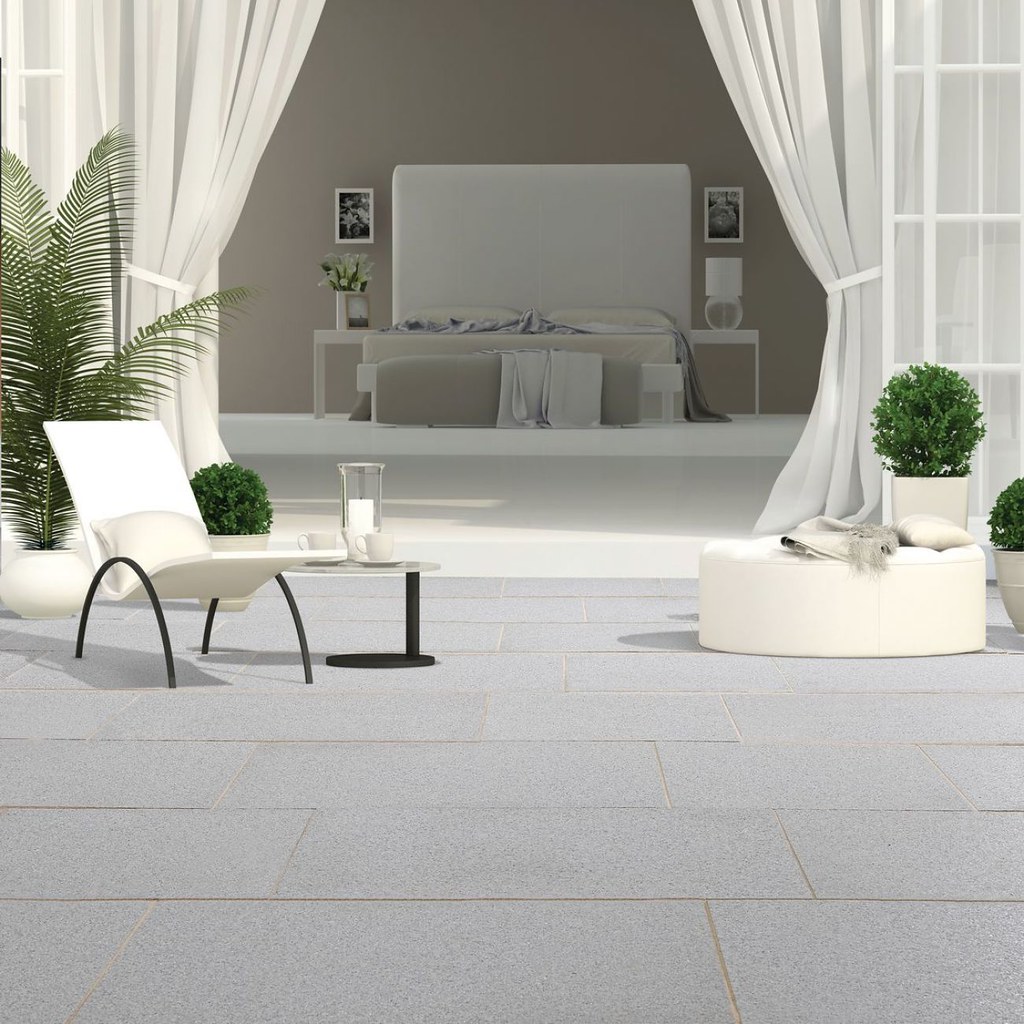 Keep the grain running
It may not always be possible to find exactly the right texture or colour for your indoor-outdoor flooring, but that doesn't have to be a problem. By keeping the grain running in the same horizontal or vertical direction, you can still create the illusion of a merged interior room and patio, drawing the eye out through the property and into the garden.
If you can, try and ensure the paving is cut the same width to create a more cohesive bridge between your spaces.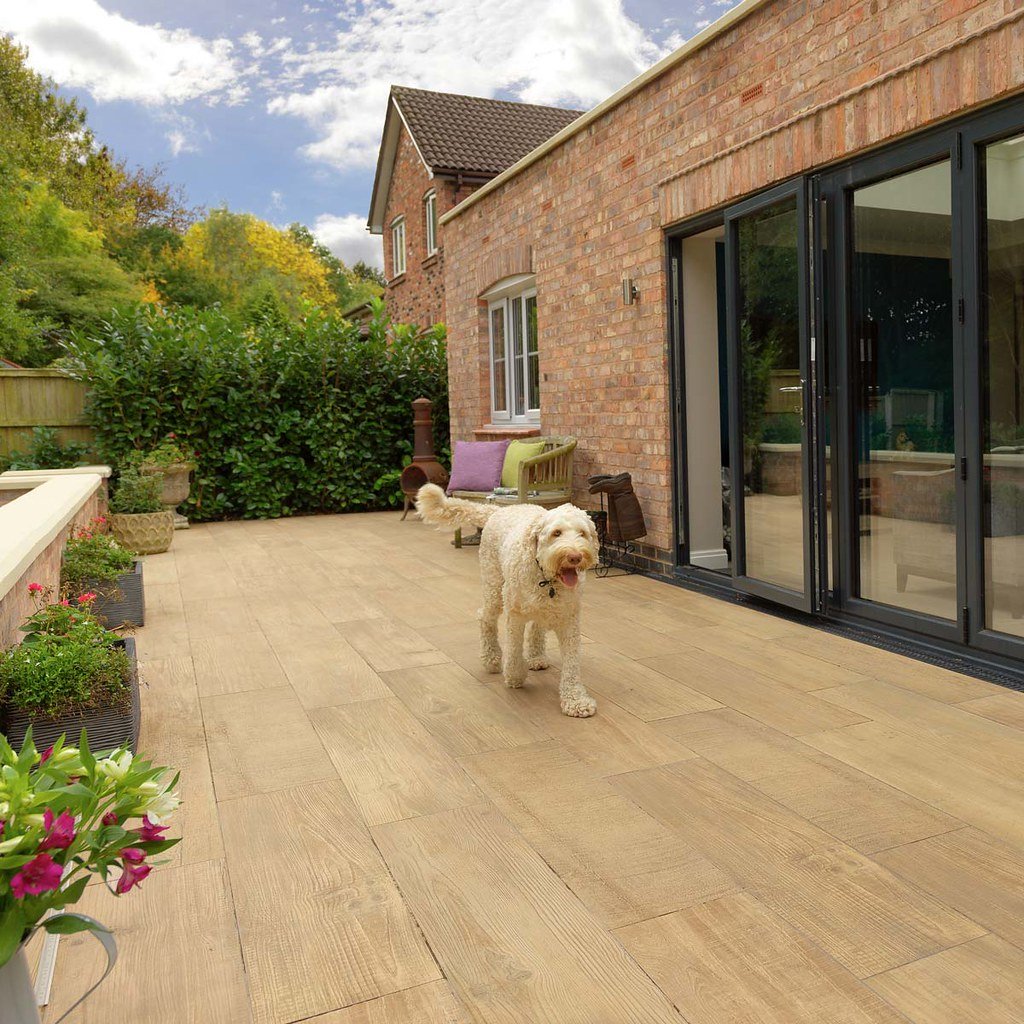 Keep it simple with natural tiles
Creating a free-flowing living space doesn't have to mean using complex textures, bold colours and unique patterns. Natural paving tiles are an excellent choice, producing a clean yet sophisticated look that works just as well indoors as it does outdoors.
Not only that, but natural stone paving or stone effect porcelain paving can blend in easily with different types of aesthetic and home design, meaning it can be a simple way for you to create an indoor-outdoor living space without impacting the aesthetic of your home.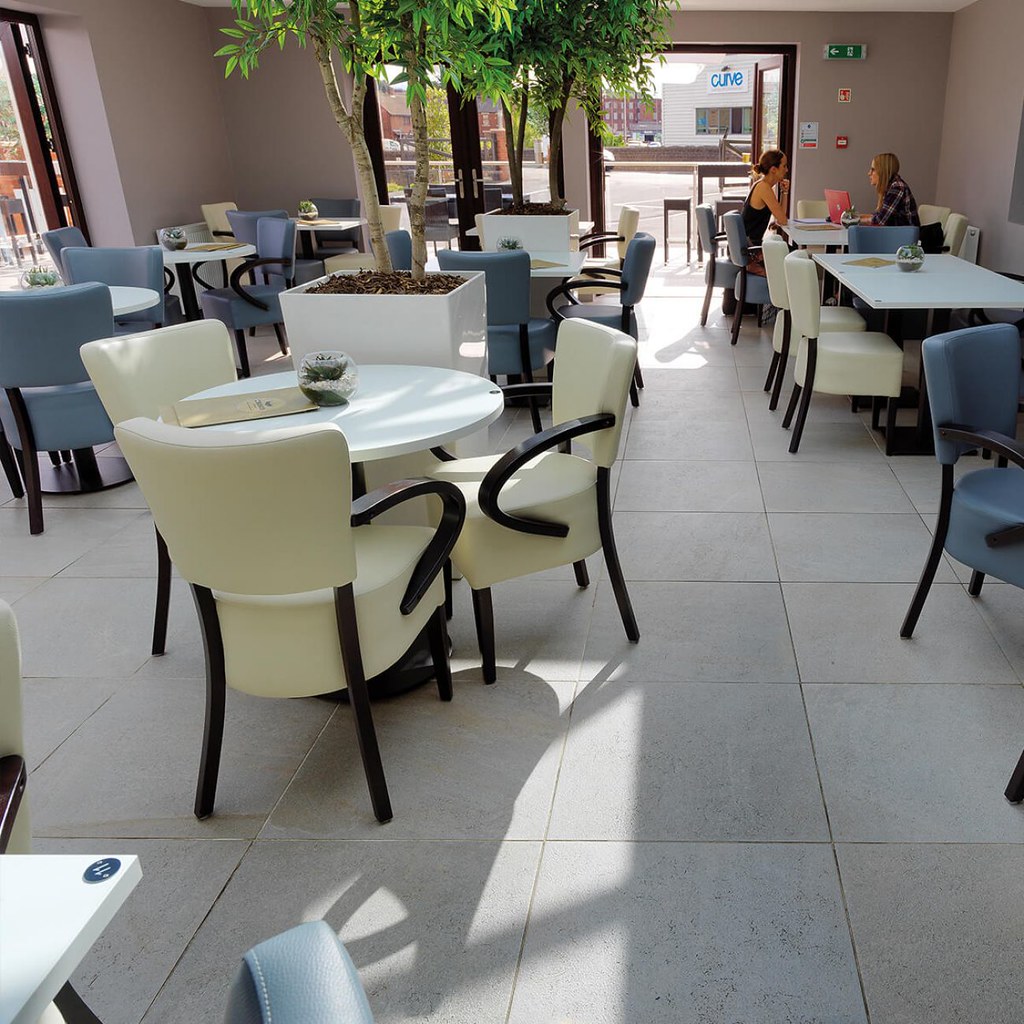 Sourcing indoor-outdoor flooring
It is certainly possible to find matching interior and exterior natural stone flooring, but you have more options if you choose porcelain. Many manufacturers of porcelain paving slabs specifically design ranges with indoor and outdoor options, so you have a broad selection of styles to choose from.
If you're interested in the idea of pairing up your indoor and outdoor flooring, it's worth bearing the following points in mind:
You can use the same paving slabs both indoors and outdoors to create a fully continuous effect.
Alternatively, you could choose to find interior tiles that match the look, pattern, or print of your exterior paving slabs. You may want to consider "rectified" exterior slabs in this case to ensure they match the dimensions of the interior tiles exactly.
Interior porcelain tiles don't generally come with a high enough anti-slip rating for exterior use. They tend to be R9 and R10 rated. For exterior use, you need an R11+ rated paver with high-enough slip resistance to handle wet conditions. So avoid using interior tiles in outdoor areas, as these will not be fit for purpose.
Shop indoor-outdoor flooring for seamless living
Whether you want more space to exercise, entertain or relax, indoor outdoor flooring can help you create a seamless transition between your home's interior and garden. By using the same paving in both areas, you'll achieve a consistent design theme which will help blend your indoor and outdoor areas into one cohesive living space.
Our specialists can advise you on the most suitable paving for your new project, contact our friendly team or explore our paving tiles and indoor flooring today.