Borders are crucial spaces that establish the aesthetic of your garden. The choice of materials and how you deploy them in your garden, how they define space and bring shape and order visually and practically between the different areas, are all things to consider.
In this article, you'll find various ideas for garden borders and edging for different outdoor environments and property styles. We will provide a handy list with important details you need to think about when deciding what garden borders to install and how they will work in the wider context of your property.
What to consider when choosing garden edging
Garden edging has two purposes – appearance and functionality. The appearance role focuses on shaping the space and making it look ordered and tidy. In its functional role, it also establishes a separation between garden spaces such as flower beds and the patio, the water feature, grass, or any other areas crafted in your outdoor space.
Spend some time finding the perfect border elements and motifs to go with you patio and other paved areas. To make the planning process easier, we have put together a list of details you should consider when choosing garden edging:
Style
What type of property and garden do you have? A traditional period country property is likely going to need materials that are sympathetic and in keeping, so natural stone elements might work better for your borders. A more modern building or urban setting, on the other hand, might be more suited to concrete, porcelain or timber and contemporary design themes.
Are you striving for a matching coherent look between the paving and edging where the materials and colours are similar and complimentary? Or do you want your borders to contrast and stand out, creating a bold visual statement?
Continue reading to find garden border inspiration for your preferred style.
Placement
Plan border and edging placement for style and functionality! Not only can you create stunning flooring patterns, but you can define the spaces in the garden and outdoor living areas.
Garden edging on your borders will keep your garden in check, meaning no more soil spilling everywhere or accidentally trimming your plants whilst mowing grass.
If you are using edging to separate flower beds, make sure you consider where in the garden they will be placed if you plan to have plants with very specific growing requirements.
Installation Requirements
There are practical considerations to garden borders and edging installation such as how you will bed, fix and point the elements. Also consider the time and labour involved with the different bits – for example a fully bedded cobble path with edge stones is going to take a lot longer to install than a shingle path with edging.
Inspiration for your dream garden borders and edging
1. For a neat and tidy look
Kadapha black limestone slabs, midnight slate sett edging and limestone chippings decorative aggregate.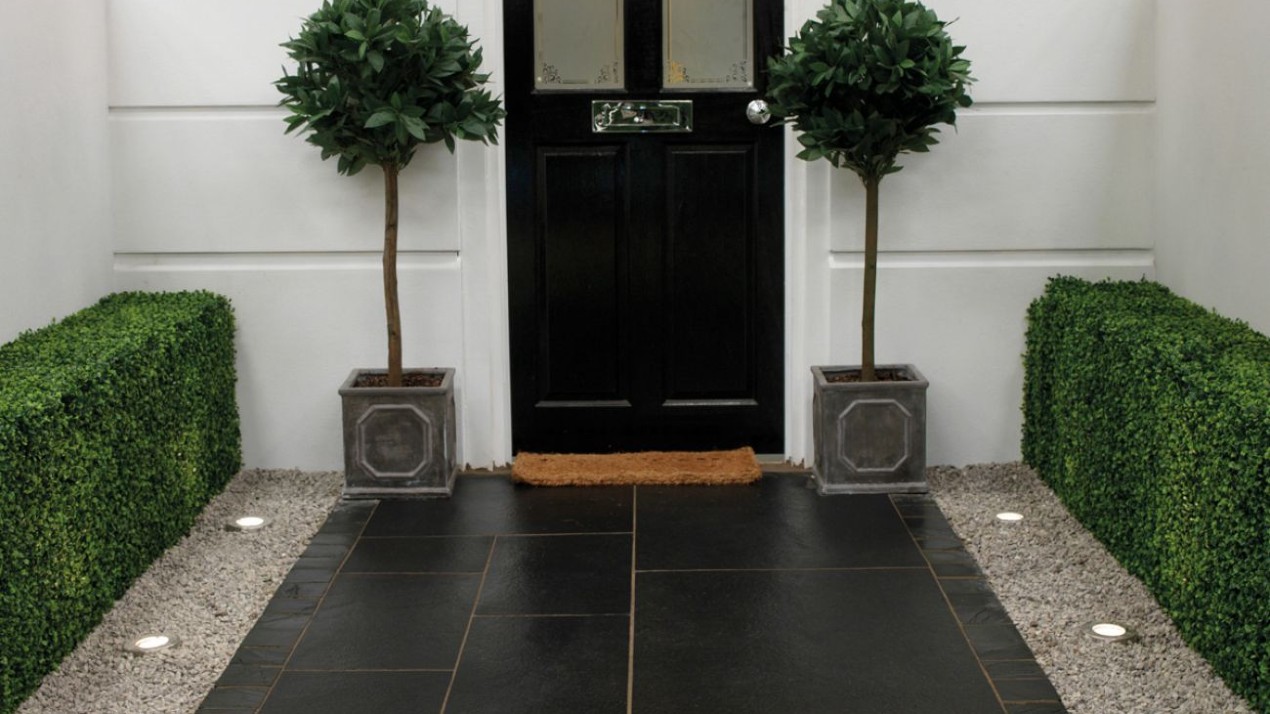 This is a fantastic example of how such a simple design feature as stone setts used as garden edging in a bold colour contrasted against decorative aggregates can help you achieve a polished look!
Notice how it is coupled with potted plants and lamps placed perfectly symmetrically on both sides to enhance the ordered appearance! You just cannot go wrong with a neatly finished front garden like this.
2. Use contrasting garden edging for a statement piece
Victorian style terracotta Red Ropetop Edging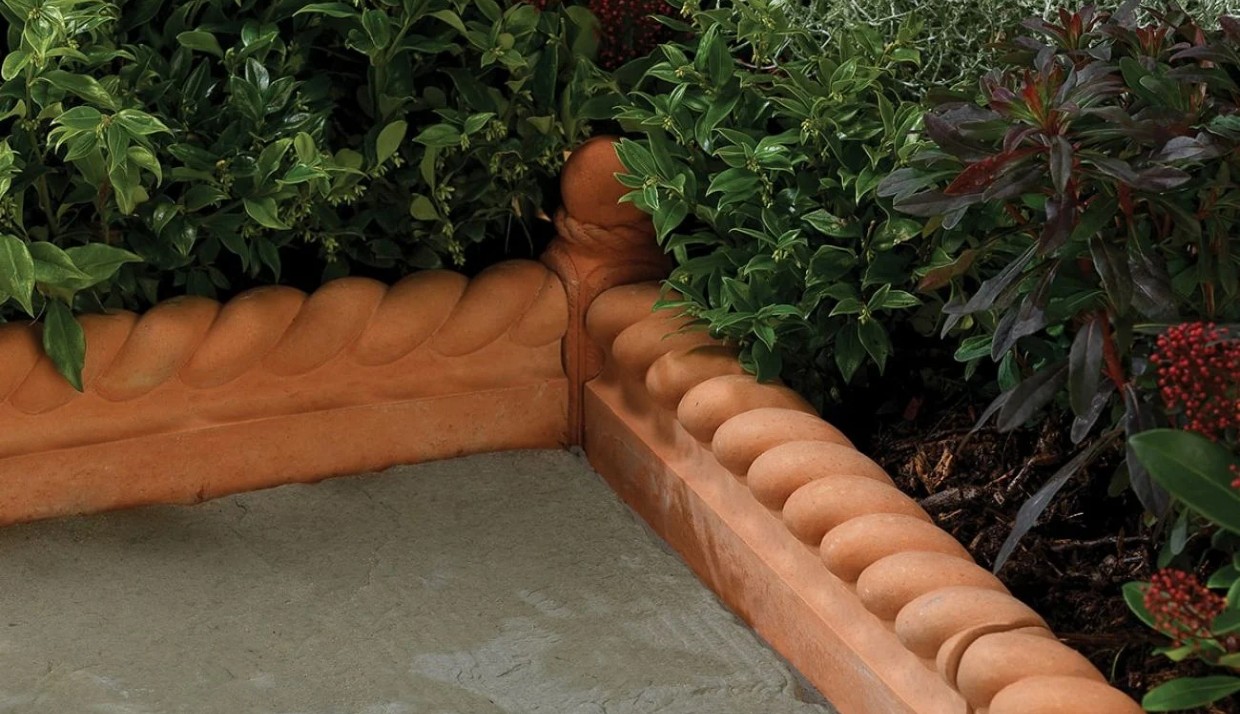 Who said that garden borders have to match your paving slabs? Make a statement with contrasting garden edging!
Our traditional Victorian era design red ropetop edging makes for fantastic decorative garden edging. By pairing the ropetop edging with red garden shrubs and aromatic herbs, you can bring your Mediterranean patio dreams to life!
This garden border solution not only brings a pop of colour to your patio, but also has a functional role: it keeps soil from spilling all over the space – a win-win situation!
3. Achieve a coherent and timeless look with this matching garden edging idea
Rustic Fossil sandstone edging with Golden Fossil sandstone paving slabs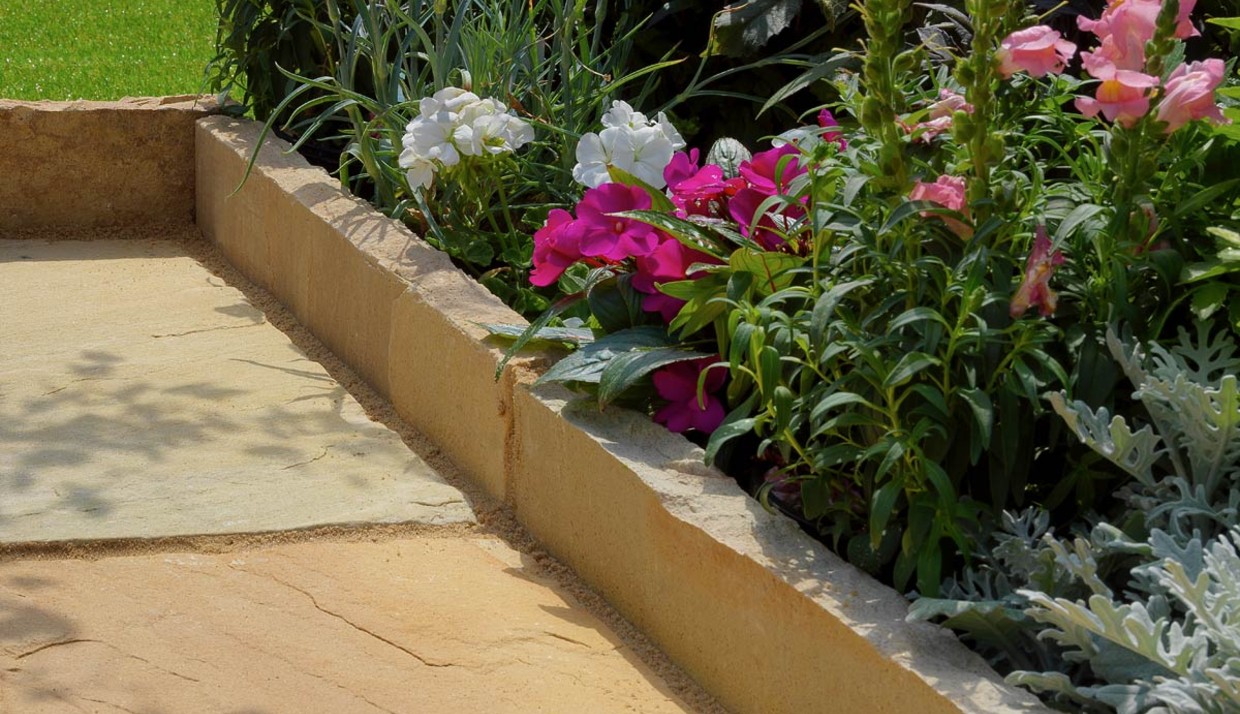 Do you want a garden design that you won't get tired of after a year or two whilst still complimenting your house's design? Natural stone paving and edging is a safe garden design choice for the majority of traditional homes. Natural stone can not only be used for paving and edging, but it can also for pathways and stepping stones too. This will bring a coherent look and feel to your garden and simplify the choice of materials too!
We recommend using our sandstone paving with complimenting rustic garden edging stone border to give your patio a more natural look that that subtly links your paved areas and beds. Indian sandstone edging will last you many years and looks so beautiful when coupled with their matching paving.
If you have questions about which edging and paving to choose for your home, contact our friendly sales team who'll be able to offer expert advice.
4. Create zones within your garden by using contrasting colours and materials
By using contrasting paving and edging blocks, you can create different zones within your garden. Take a look at this circular garden edging idea – by implementing a darker border colour, our client has segmented their patio into several areas. This beautiful circular patio design cries out for a firepit and a couple of cosy chairs to make it the ultimate outdoor entertaining spot for your family and friends!
Another fantastic garden design idea is creating different levels within the space as shown in the image below. By incorporating multi-levelled zones, you can create a focal point for your patio, for example, a dining zone for those warm summer evenings.
5. Get more privacy in your garden without paying for a fence installation
Noisy neighbours? Or just want a bit more privacy? Consider planting taller bushes or flowers. Of course, not all of us are born with advanced gardening skills, but there is such a wide range of garden shrubs available with plants that require barely any care; head down to your local garden centre and have a look for yourself.
Make sure to choose plants depending on their growing conditions – whether they prefer a sunny, shady or perhaps sheltered environment.
For one example, above we have Kadapha black limestone accompanied with light grey sandstone setts used as garden edging, along with fragrant lavender and a mix of colourful wildflowers under a green oak pergola for the ultimate private, relaxing Eden!
Next Steps
Garden edging is the cherry on top of a paving sundae – it is that finishing touch that makes all the difference!
We offer a wide variety of garden edging products to help you create borders in an assortment of styles and different materials.
If you feel overwhelmed by the number of options out there, keep in mind your design theme, available space, and if it will serve a functional purpose.
Our specialists can advise you on the most suitable edging for your new project, contact our friendly team today!