Garden shade might not be a requirement all year round in the UK, but when a 32oC day comes around in the summer, you'll be grateful that you put some thought into one or two ways to retreat from the sun's glare!
Planning your shady spot
There is no single formula to follow to find shade ideas that suit your garden. However, if you ask the following questions, you will be able to identify what your space might need.
Where do you want to sit?
Your new shaded spot needs to be somewhere you want to sit. That means the first, and most important, question is to ask yourself where you want to be in your garden.
The answer may be as simple as your patio if you already have furniture that you like, and plan to be outside entertaining family and friends in the summer months.
Even if the answer is straightforward, if you have a large patio it's likely that there are multiple possible arrangements for your furniture. Consider which spots give you the best view out to the garden, the most cover from neighbours if you're overlooked, or the best access to the house if you're hosting outdoor dinner parties.
Even if the answer is straightforward, if you have a large patio it's likely that there are multiple possible arrangements for your furniture. Consider which spots give you the best view out to the garden, the most cover from neighbours if you're overlooked, or the best access to the house if you're hosting outdoor dinner parties.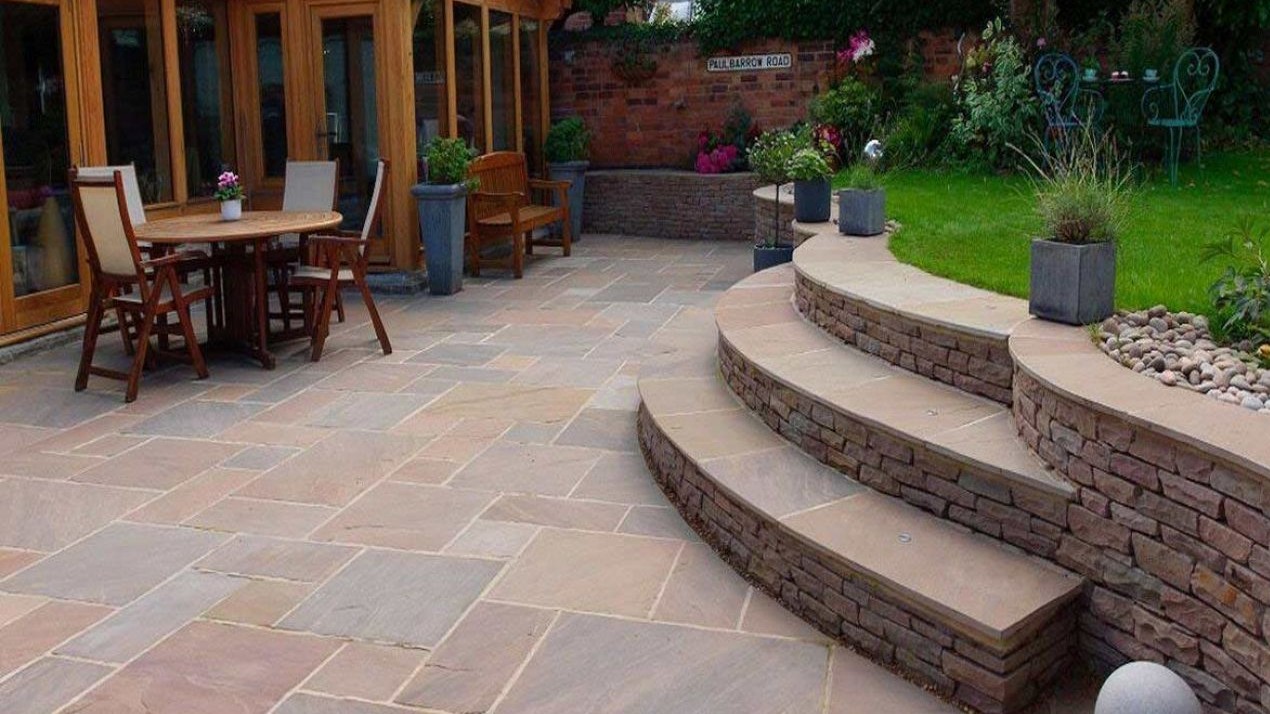 It's also worth considering if there's anywhere else in the garden that you would like to sit. A bit of choice can go a long way in helping you make the most of your outdoor space when the weather's nice.
Where will you naturally get shade?
This question is not just about looking at existing shaded spots, but about looking at the way the sun hits your garden. The direction that your garden faces will make a big difference to where you will be able to create shaded spaces.
If there's not currently much cover in your garden, look outside to see where your house, fences, shed and any larger plants cast shadows during the day. You'll need to pay particular attention at the time of day that you'd expect to be outside, and remember that the sun will be higher in the sky during the summer than it will be if you're planning your changes at another time of the year.
In this example, the shadows from the hedges, house, furniture and shrubs can all help you work out where it will be easiest to create shade during the summer months.
Be conscious of how the shadows fall on your garden features, too as flower, plants and even stone will take on a different visual effect under shade. Flowers obviously need natural light, and paving like sandstone and limestone can look quite striking when there is less light.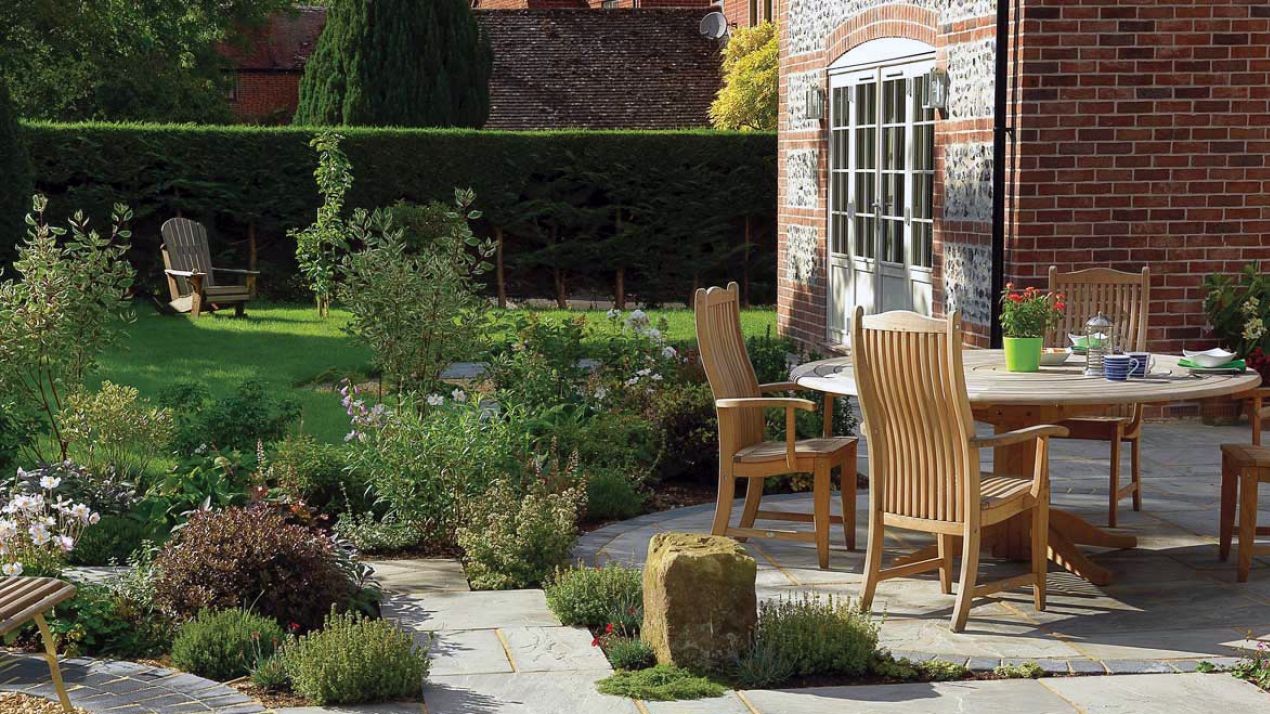 Where do you have space to add cover?
The final, practical consideration is to think about where you have space to provide more shade. Shaded spots by nature require some kind of cover to create the shade, which means you need space to install a structure, or to plant trees and large shrubs.
In this garden, we can see that there's plenty of space around the table to put up a permanent structure, or even to plant a few trees around the fence.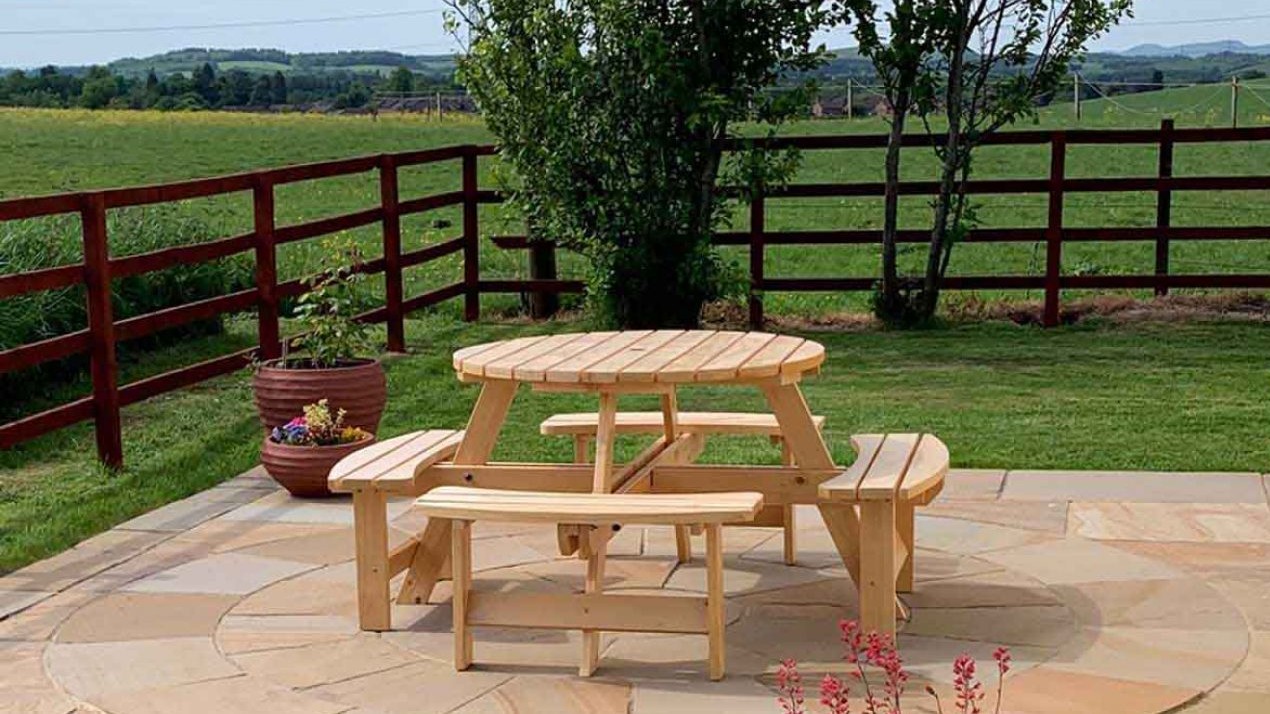 Most patios will give you enough space for some kind of shade, but you may want to think about whether your patio could be extended, or where else in the garden you might have space to create some sort of shelter.
Bringing it all together
Your answers to the above questions should give you a sweet spot for your shaded area. Ideally, it will be:
Somewhere that you want to sit for practical or aesthetic reasons;
A spot that will allow you to take advantage of the sun's position over your garden in the summer;
Somewhere with enough space for you to add plants or structures to provide the shade.
How to use plants for garden shade
As well as providing shade, trees and vines can be attractive garden features in their own right. The sound of leaves rustling in the wind or birds in the branches adds an air of tranquility to a garden, but you do have to be prepared to invest a little more time in getting the cover that you need.
Plant leafy trees
The best trees for garden shade are those that have thick leaves and large branches. They work best when planted with space to grow, which makes them ideal for creating shady spots away from the house. You may be able to have success with shady trees around the patio, but you'll need to make sure that they have space around them for their roots to establish and their branches to grow.
When buying new trees for your garden, especially if shade is a primary goal, you'll need to consider their height and spread (how far their branches will reach out to the tree). If possible, look into their height and spread after both 5 years and 10 years, because while you need something that's big enough to provide shade, you don't want it to be bigger than expected in the long term.
Here we see the perfect kind of tree for shade. Though it's not the largest, it has enough height, spread and a high enough density of leaves to be able to provide shade for the riverside seating at certain times of the day.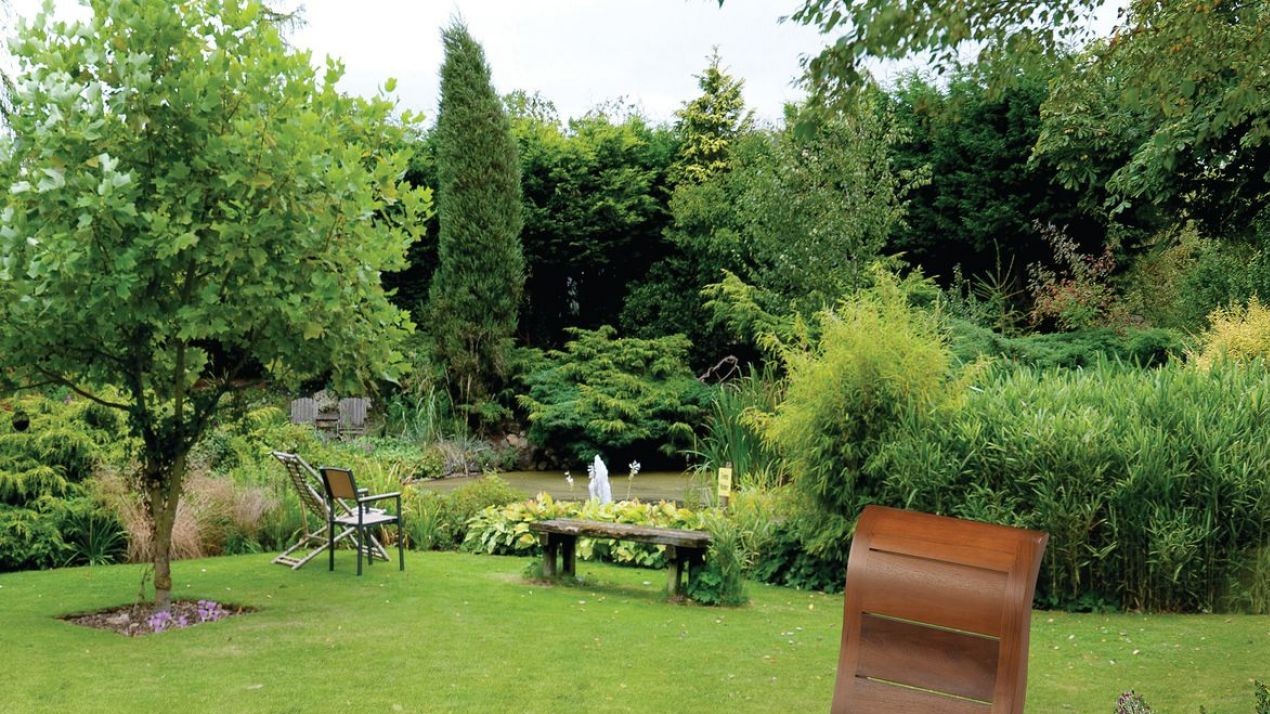 You could consider potted trees to provide some extra cover where there isn't space to plant them in the ground, but these will not grow to the same size as planted trees and will not provide the same level of shade. The other options in this article will be better if you're looking for shade on the patio.
Shade from climbing plants
If you're prepared to wait for them to grow, very few shelters can match the beauty of climbing plants that have been trained to grow over a frame. It's possible to buy or construct pergolas made from wood or metal that provide a skeleton over which leafy plants can grow to provide shade. These frames can be attached to the house or installed as a freestanding structure over your seating area.
Though this example is larger than what most gardens can accommodate, it illustrates the principle that vines grown over a frame can provide a surprisingly high amount of shelter from the sun.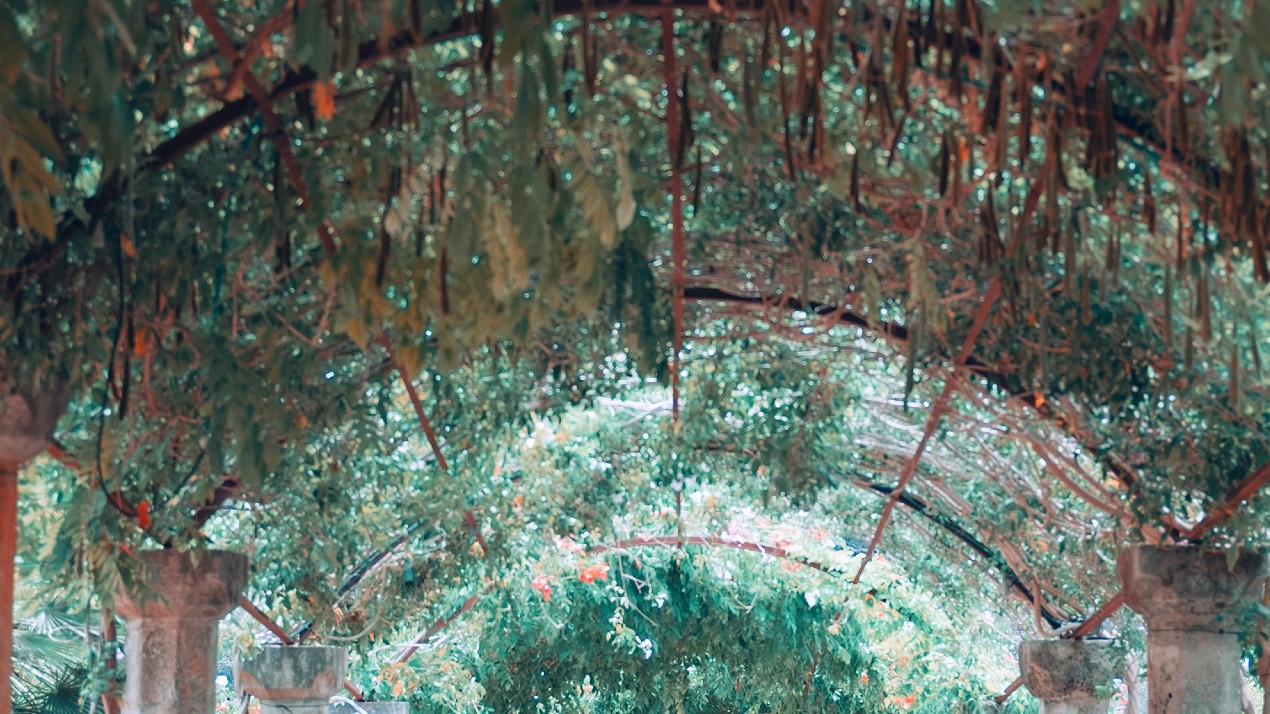 Hydrangea and wisteria are popular climbing plants if you're looking to create shade. They are both strong, leafy plants that flower beautifully, turning your pergola into a gorgeous, natural feature. Both of these plants can grow to be quite heavy, so you'll need to make sure that the frame supporting them is strong enough to last.
The RHS website has more information on how to grow and care for wisteria, and BBC Gardener's World has a guide to growing climbing hydrangea.
How to use structures for garden shade
A number of artificial structures also lend themselves to creating shade in the garden, with both permanent and temporary options out there depending on how much space you have and how much flexibility you need.
Permanent structures
We've already mentioned pergolas as good frames for climbing plants, but some of them can provide shade without plants. Covered pergolas or those with large enough wooden beams make for simple, spacious shelters that can easily cover a patio seating area.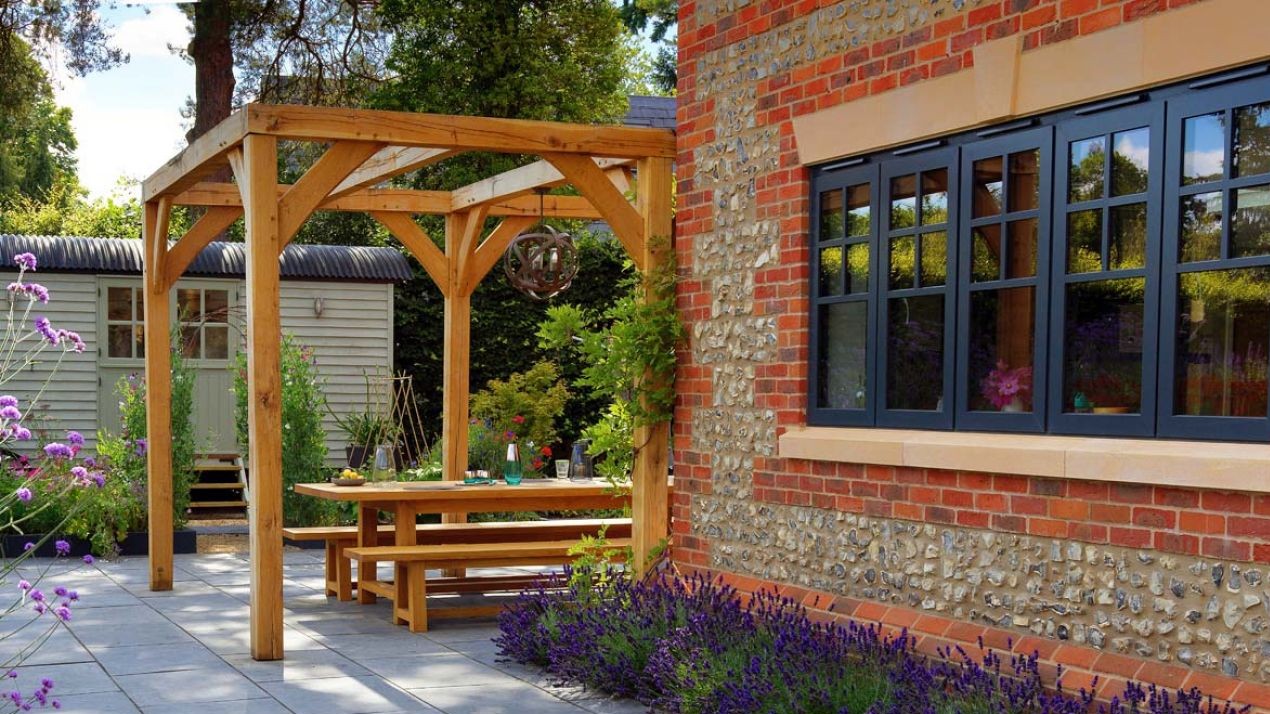 A wooden gazebo is the perfect shelter for a large patio or extended seating area elsewhere in the garden. They can even be used to keep the rain off a hot tub or outdoor kitchen if you're looking to get even more use out of your garden in the changeable British weather.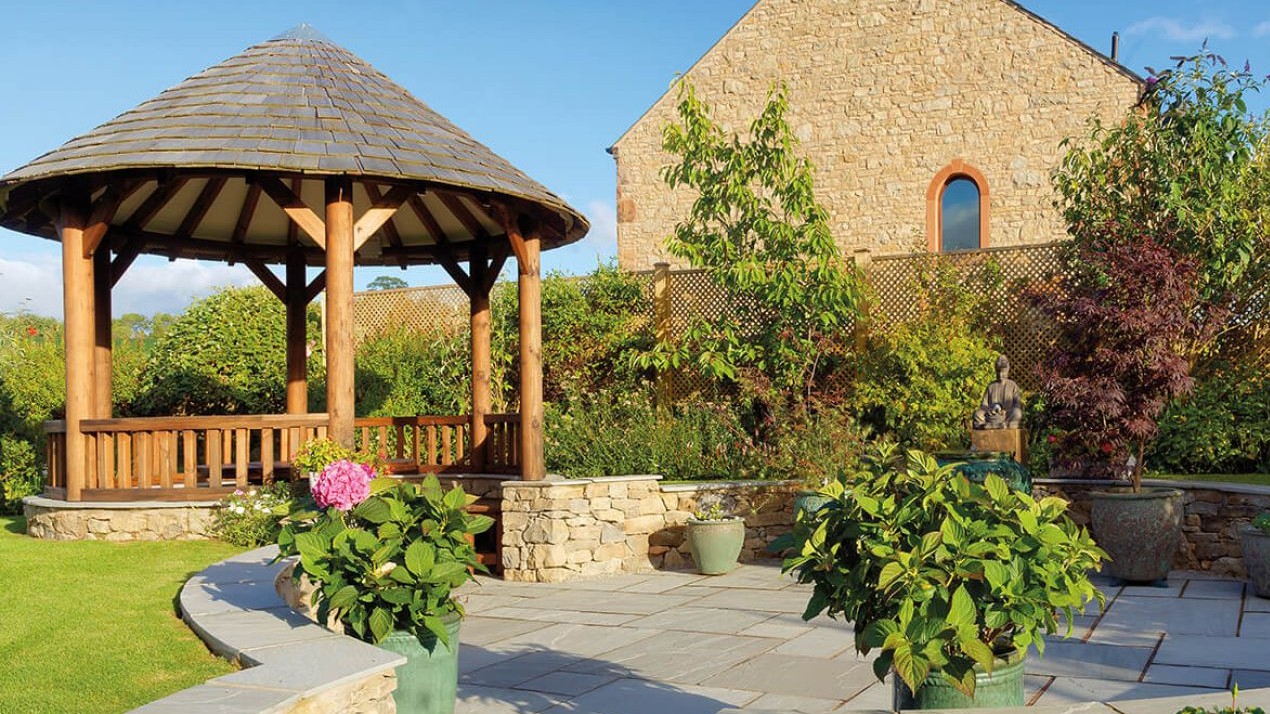 If you have the space and budget, the ultimate garden shade structure is a garden room: a dedicated structure built for comfort that will help you enjoy your outdoor space all year round.
Temporary structures
A sail gazebo is a fantastic, temporary structure that you can easily set up over a permanent seating area or out on the lawn for a garden party. They're simple structures with three to four legs and a canvas roof, but do a great job of providing shade and look a lot more attractive than other temporary gazebos.
For shade on the patio, you could also consider a patio awning. An awning is perfect for when you know you often want to create shade in the same spot, but don't want it there all year round.
Finally, a garden parasol is an ever-popular, versatile way to shade a table or seating area. For something a little different to your regular parasol that sticks up from the centre of a table, you could consider a cantilever parasol, giving you more freedom in how you arrange your seating.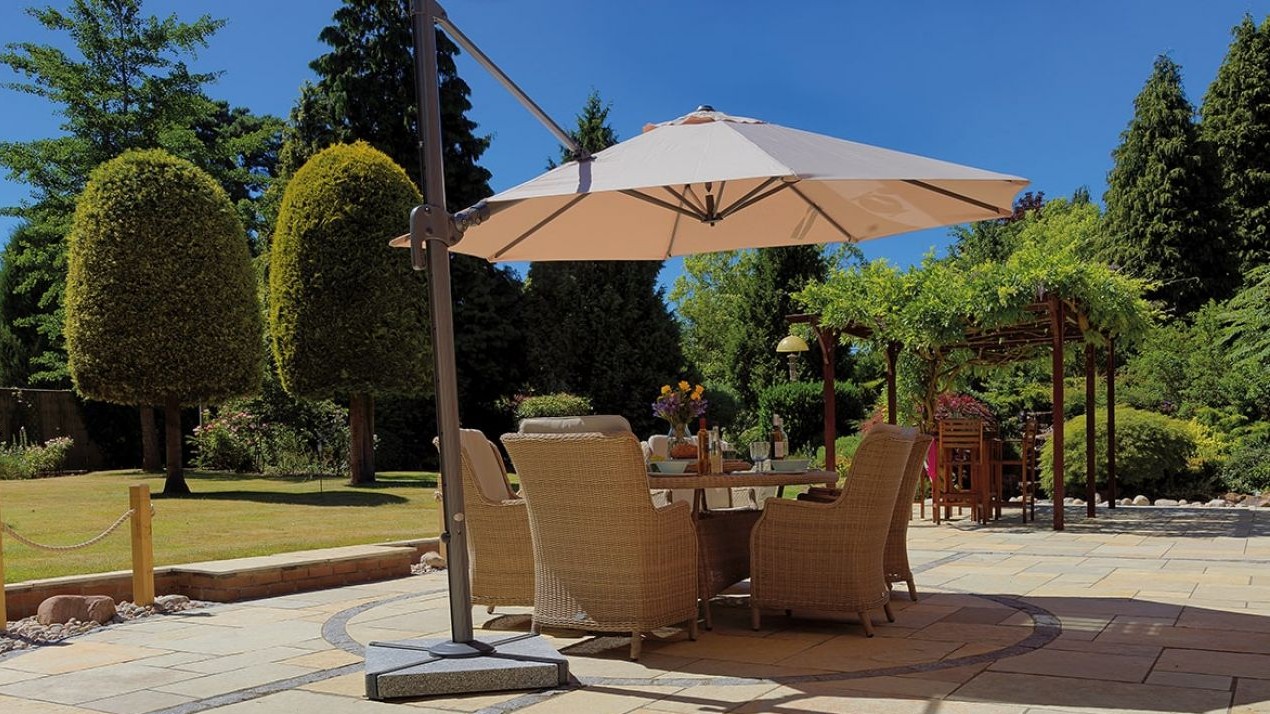 Creating a new spot elsewhere in the garden
While any of the above solutions will help create shade on your patio, many of us would like shaded spots elsewhere in the garden to help us enjoy all of the space available to us. There are a few options available to you to make this a reality.
Use an existing shady patch
The easiest way to find a new shady spot is to use one that already exists in your garden. If you already have a spot shaded by trees or that's in a good position for you to find shelter from the sun, you could install a small section of paving slabs to level off the ground – perhaps connected to the patio by a path or series of stepping stones – and add some chairs with a small table.
Little spots like this are perfect for quiet afternoons out in the garden, or warm summer evenings with a couple of friends.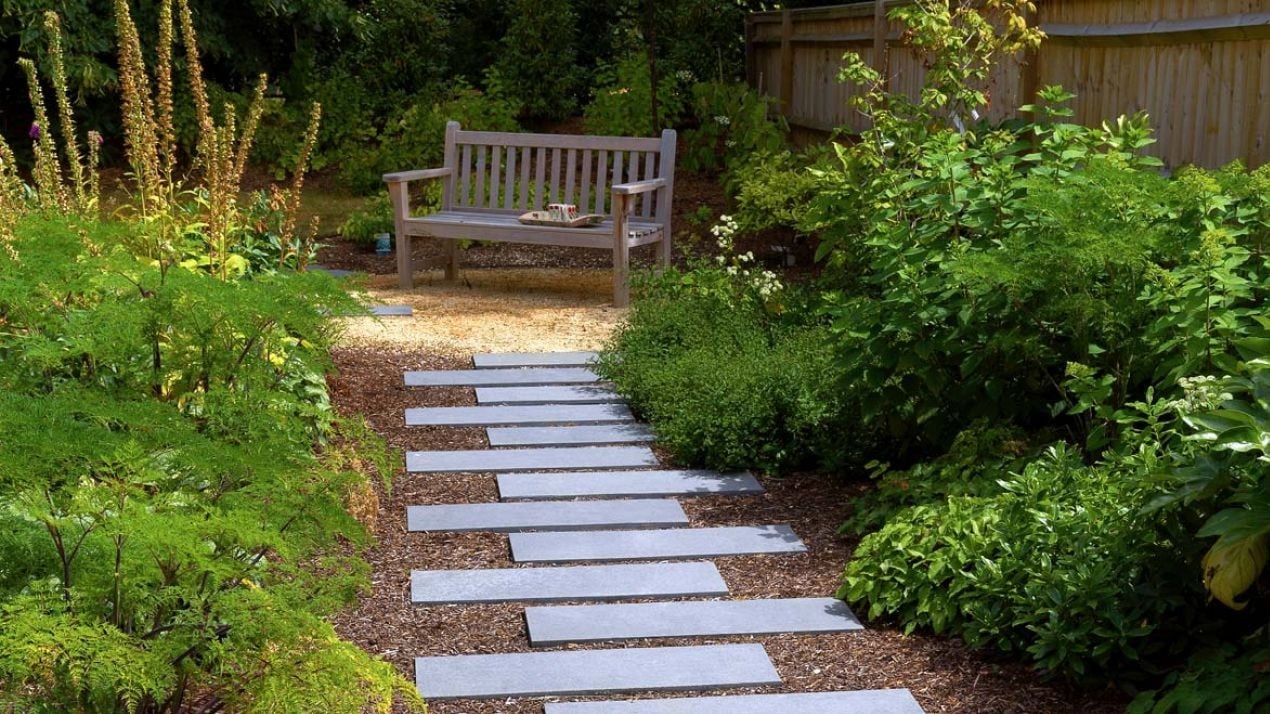 Consider a structure like a gazebo, garden room or summer house
Larger structures can be used to create shade anywhere in the garden that you have space. A permanent wooden gazebo is an attractive, versatile feature that can easily house a shaded seating area. Creating a path to it out of block paving or gravel will help it feel like an extension of your patio, and stop the lawn being trampled when you're walking out to it.
Along similar lines, a summer house provides an attractive, sheltered space that's perfect for a couple of comfy chairs. It's less useful for dining or entertaining guests, but it's ideal if you just want a shady space in which to spend those relaxing summer afternoons.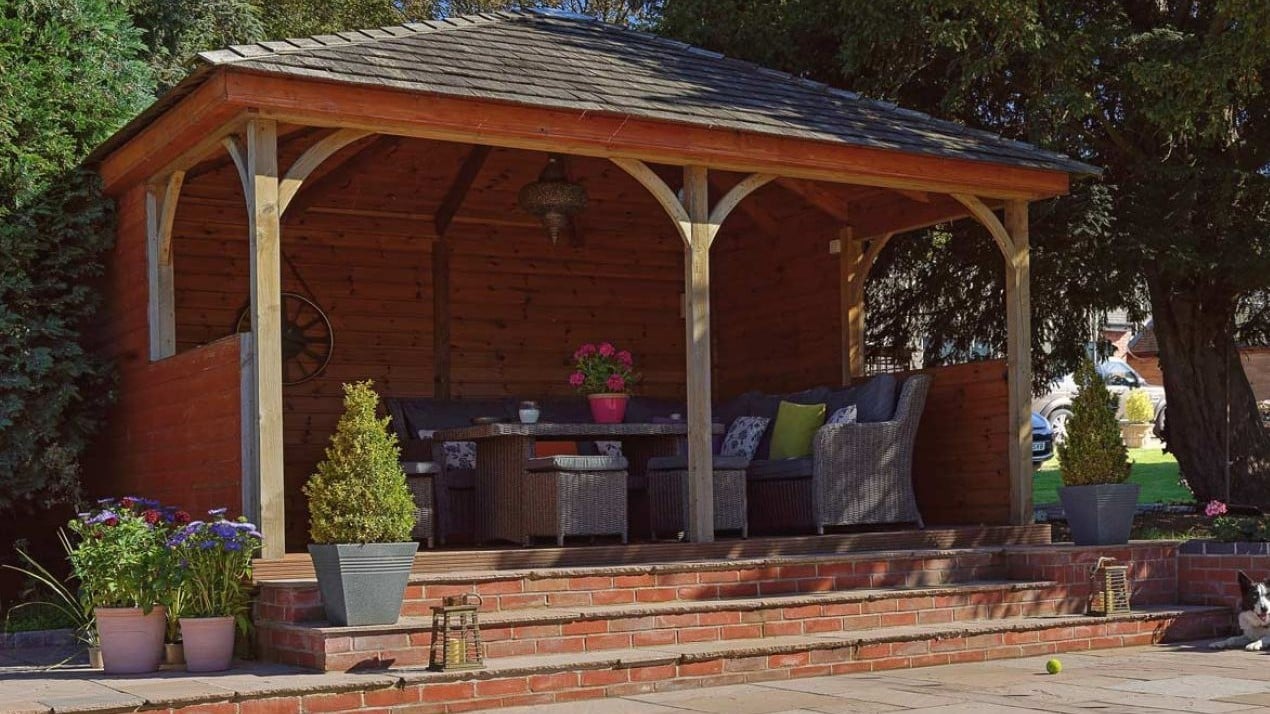 Finally, a garden room is the ultimate space, bringing all the benefits of the home into your garden. It's not just a great shade idea for the summer, but a warm shelter for the winter. You can turn a garden room into whatever works for you best, whether that's a dedicated seating area, a workspace or even a guest room. While we wouldn't recommend the outlay if shade is your only goal, there's nothing better if you're looking for a way to get more from your garden.