Black Limestone Paving
Black Kadapha is a firm favourite amongst many Landscapers and homeowners. The performance and characteristics of limestone paving combined with the beautiful blue-black colouring make Black Kadapha an easy choice for many paving projects.
Durable, Hard-wearing and Versatile
Limestone is very durable, making it ideal for garden and patio paving projects. It is slightly permeable, but water absorption tends to be limited, making limestone great for outdoor paving. Limestone offers flatter and smoother stone textures when compared to sandstone paving, with fewer ridges in its finish. Whilst being very durable and incredibly hard-wearing, actually, by masonry standards limestone is a "soft stone", so it is easy to cut and lay - a property that makes this versatile material a go-to choice for many landscapers and builders.
Contemporary Style / Classic Style
Kadapha Limestone features sawn edges rather than traditional hand-cut edges. This means that this paving will complement classic and contemporary gardens alike, giving you the best of both worlds when it comes to creating your dream project. Its black/dark grey hues mean it also it compliments many different styles of gardens - therefore, it is extremely versatile.
Soft Riven Finish
Limestone is an attractive and very durable paving material, which has a softer appearance than sandstone. Pavestone have dressed this paving with a variable soft riven finish. This means it feels more tactile and smoother underfoot, presenting an attractive surface on which to live when outside enjoying your patio or terrace.
Size Format & Pack Options
Black Kadapha comes in a range of different size-formats and is sold in five different pack configurations:
290 x 290 mm
600 x 290 mm
600 x 600 mm
900 x 600 mm
Contractor Pack (Mixed Sizes) 48 Piece
Weathering / Colour Preservation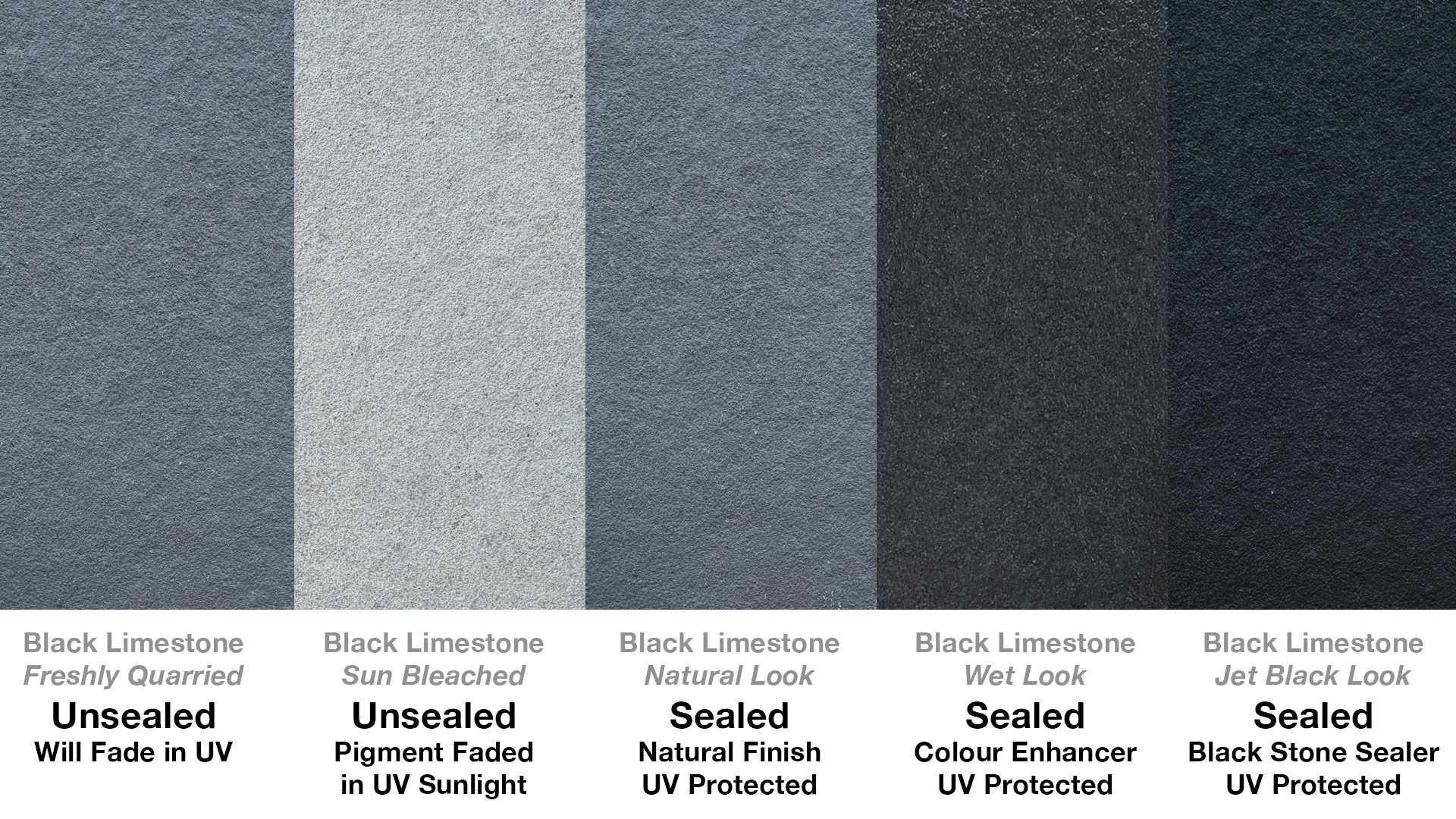 Please be aware that black limestone paving is susceptible to UV light and can quickly become sun-bleached if left unprotected. For some homeowners, this weathered look and feel with black limestone is what they desire, especially in period properties and when a more rustic look and feel is desired.
However, if you wish to emphasise the dark blue-black colours of this natural limestone paving, we suggest you treat it with Pavestone Black Stone Sealer to add UV protection and fix the pigment. Please note - The darker image above (With the black door) is where the paving has been treated and enhanced with Black Stone Sealer (Available to buy in accessories).  We advise 1 Litre of Colour intensifier per 7.5 m² of paving.
Prevent Salt Staining
We also recommend you use Pavestone Priming Slurry applied to the underside of the paving to prevent salt staining from your base mortar.