One of the most frequently asked questions received by our team is "what width should the joints on my patio be?"
The answer to that is going to depend on what type of paving slab is being used.
In this article we explain what width of patio paving joint (pointing) works best with different types of patio paving slabs.
Why does paving need joints?
You should not lay paving slabs touching adjacent slabs. You need a joint to protect the paving.
The paving joint prevents contact pressure between the slabs and allows thermal-expansion to occur, protecting the slabs.
If you laid your patio slabs flush/touching (butt jointed) removing the cushion of the joint, you would likely encounter issues of spalling and shaling. This is where the pressure and contact between the paving abrades and chips the edge of the slabs, damaging and weakening the paving. For this reason a minimum joint size of 2-3mm should always be used.
Why do paving joints need pointing?
We generally point the joints of patio paving for three main reasons:
Sealing the paving (weather protection & drainage)
As a compressive or sacrificial material to allow for thermal-expansion
Aesthetic appeal
Weather seal – The first job of pointing is preventing rainfall and run-off water entering the patio's paving joints. When water enter the joints, it can undermine their bond with the laying course (mortar bed). Persistent damp will damage the patio, so pointing helps protect it.
Without this protection, water/damp will likely cause many issues. These can include, weakening the slab bonds (creating loose paving), erosion (freeze-thaw and chemical), and the surfacing of unwanted blemishes (efflorescence, salt staining and ferrous-particulate rust blooming).
Compressive material / sacrificial material – modern exterior grout and jointing compounds provide a little flexibility, allowing them to be compressed as slabs thermally expand in hot weather. This maintains the joint's seal, whilst also ensuring the space of the joint prevents direct contact between the slabs. Traditional lime mortars can also provide the flexibility/elasticity required, but their porosity is higher than cement mortar. Cement mortar, is less flexible than lime mortar (and therefore, more sacrificial). Both traditional mortars are less suited to pointing than jointing compound or exterior grout (which both possess the key properties of weatherproofing and flexibility).
Paving aesthetics – a key function of pointing is to make the paving look good. A good pointing job will enhance the visual appeal of your patio – keeping things neat and tidy. It will help establish the right look and feel to compliment whatever type of paving slabs you have chosen. So if you want a contemporary feels you'll use narrow joint pointing, whilst if you want a rustic/traditional feel you'll probably choose wide joint pointing.
Paving Slabs Edges & Joint Widths
Broadly, when it comes to pointing your patio, jointing widths fall into three width categories.
Narrow Joints – (3-7 mm)
Standard Joints – (8-14 mm)
Wide Joints – (15-25 mm).
Narrow Joints (3-7 mm) – Contemporary Feel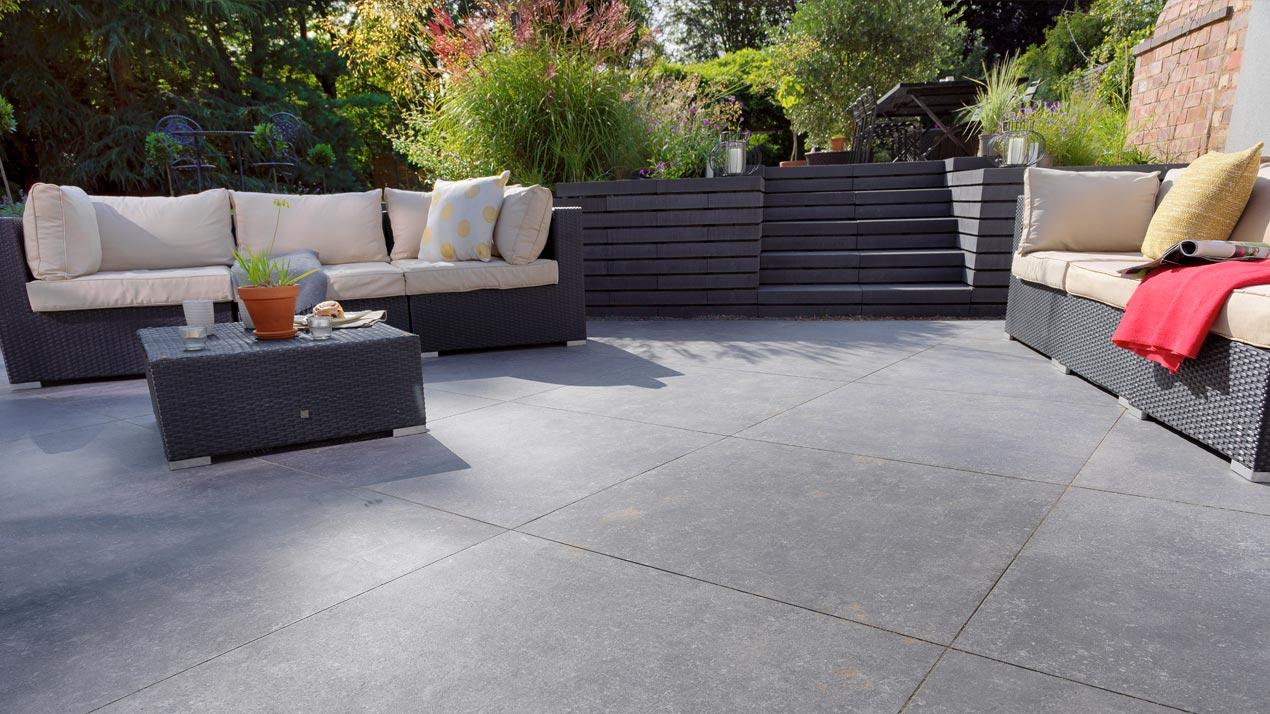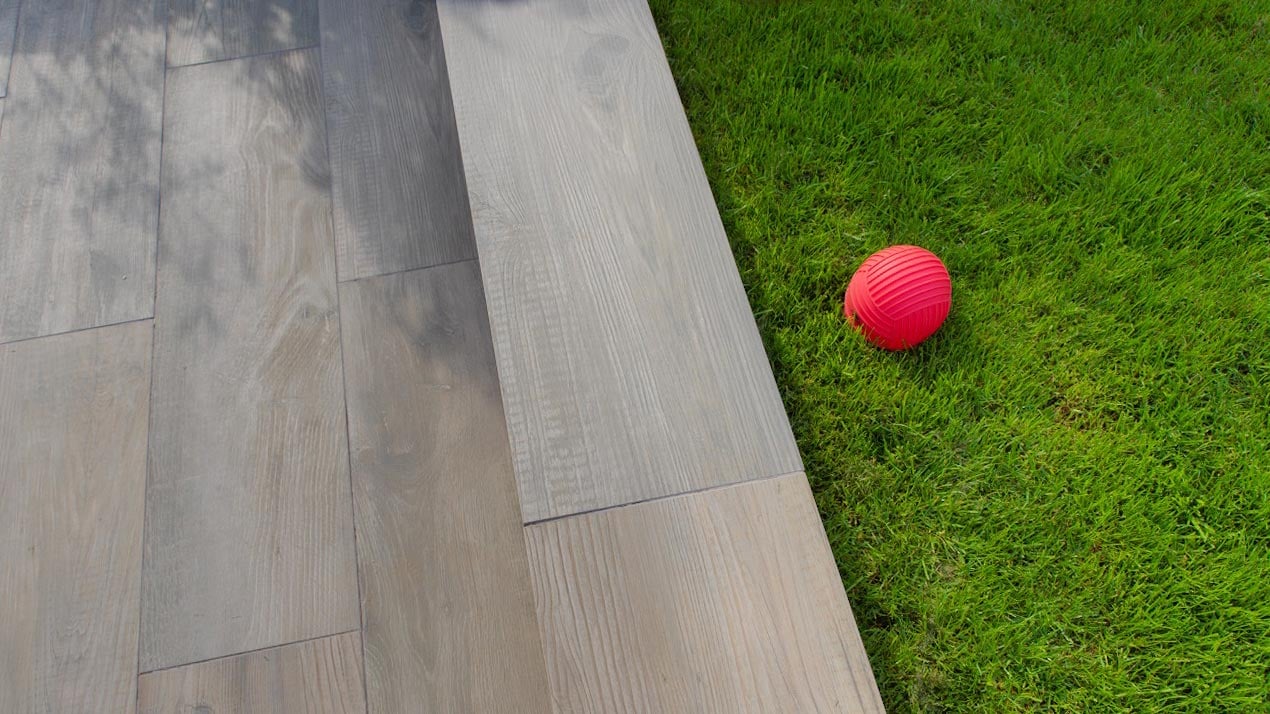 Standard Joints (8-14 mm) – Modern Feel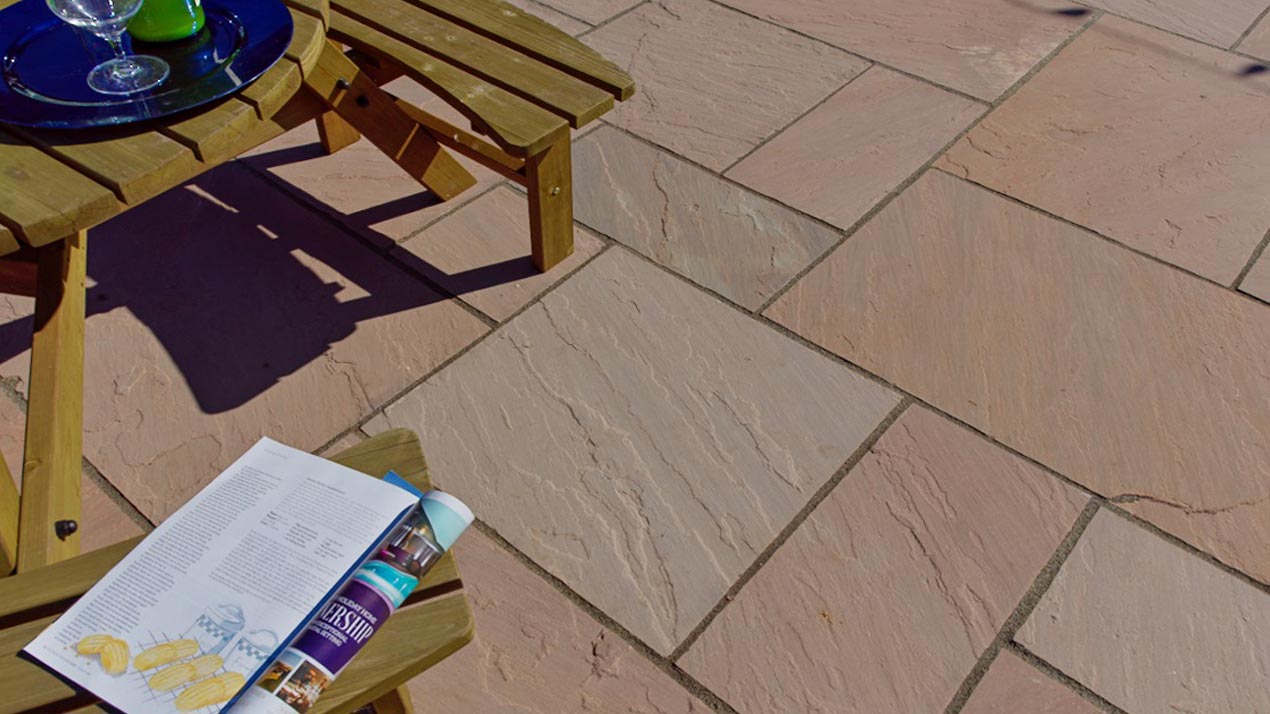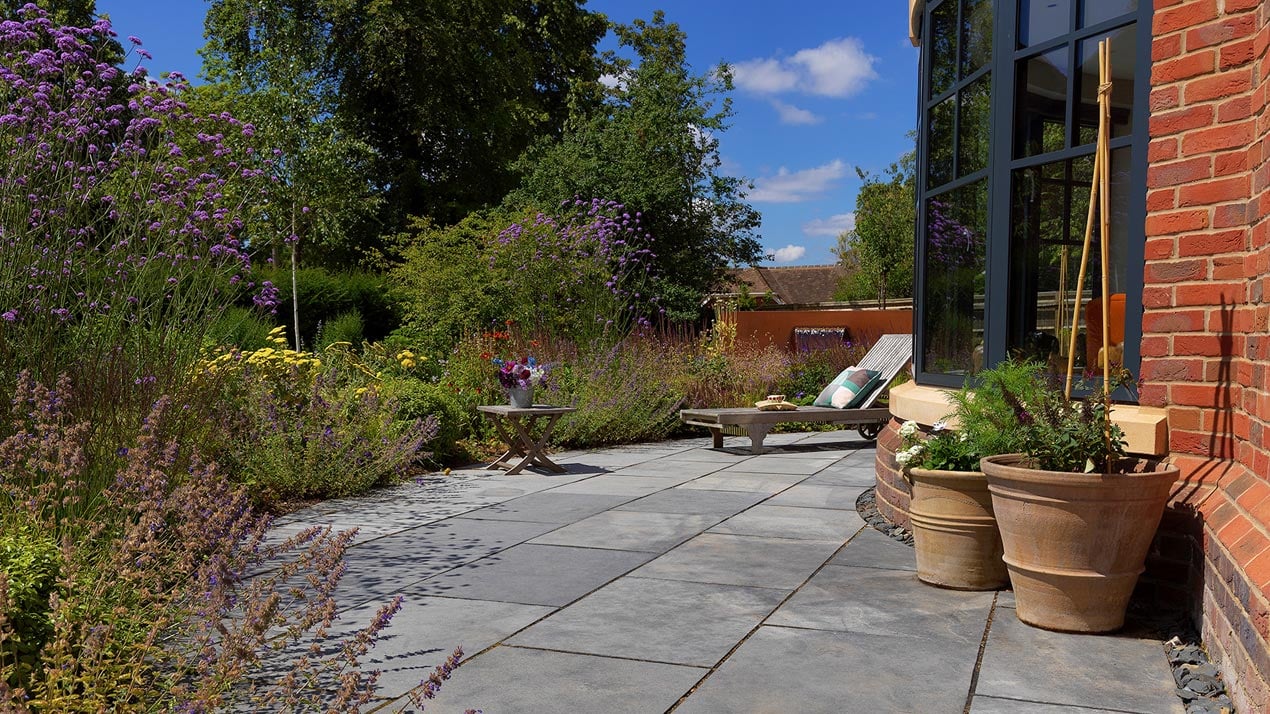 Wide Joints (15-25 mm) – Traditional/Rustic Feel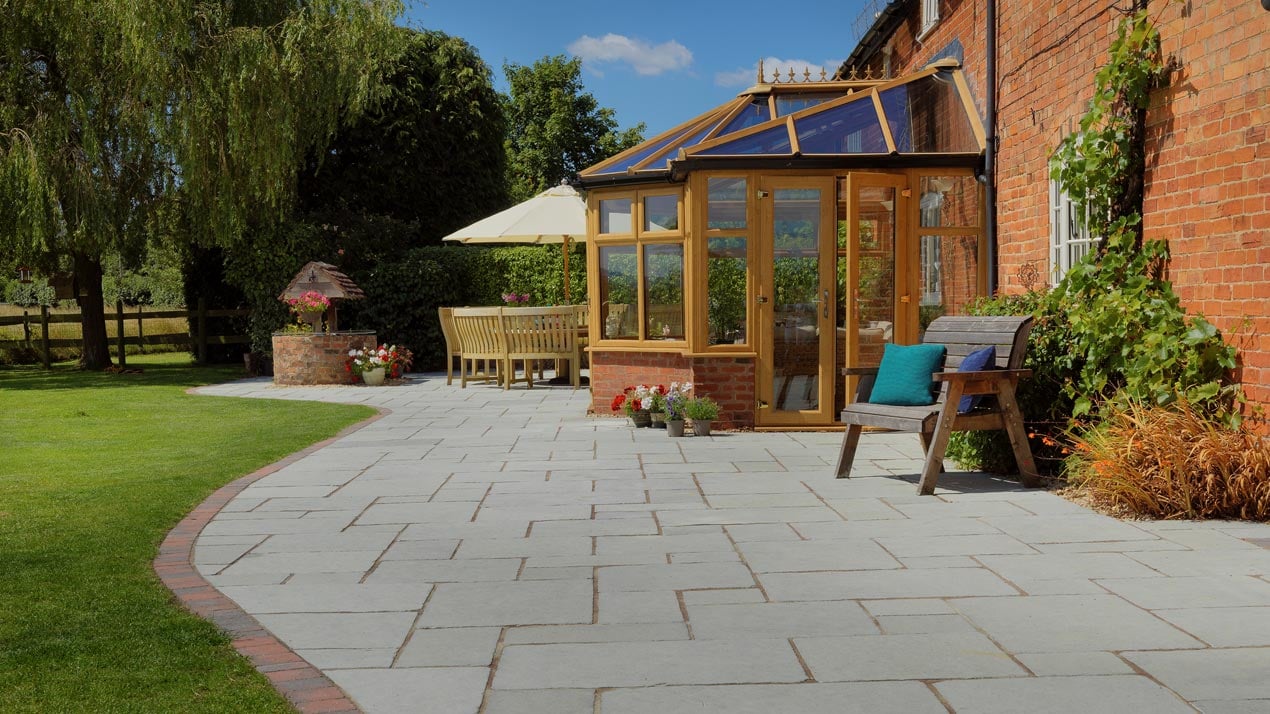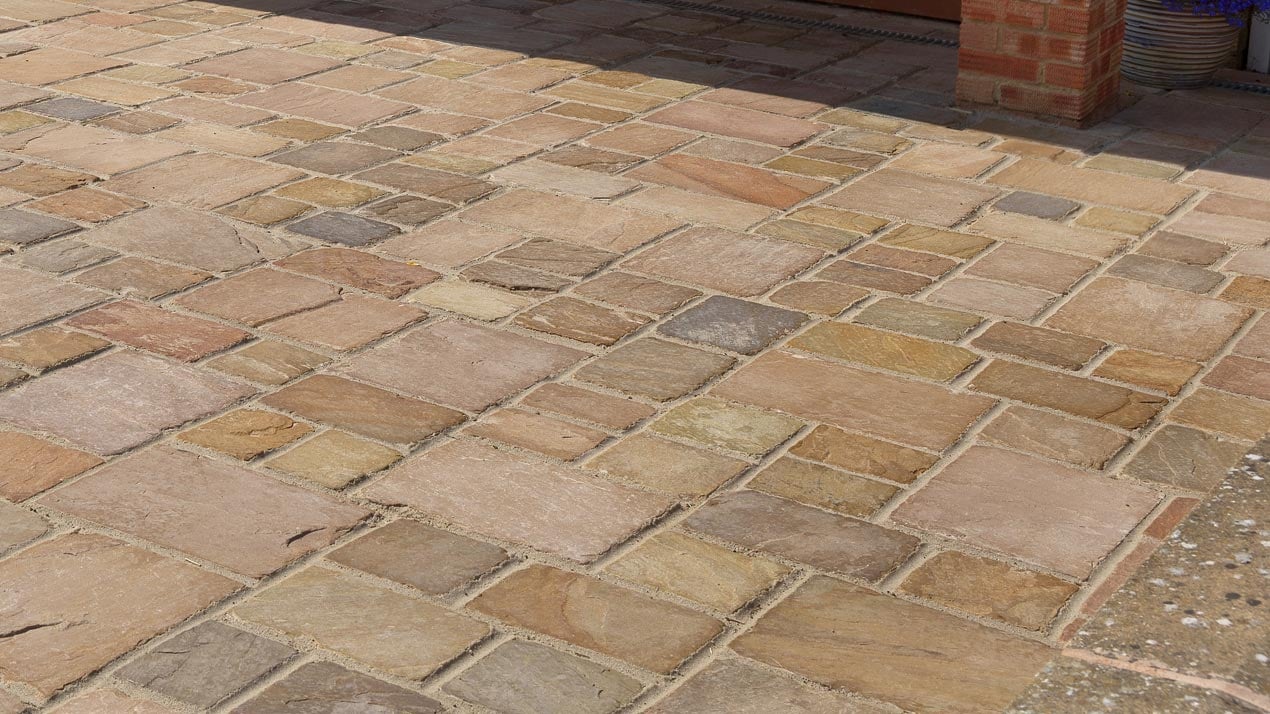 These joint widths are largely determined by edge-finish/profiles of the slabs. The cleaner, straighter and truer the edge profile, the narrower the paving slabs can be laid. The three edge-finishes/profiles that usually correspond to the choice of joint width, are:
Sawn Edge – straight, clean lines with square/right-angle corners

Pointing Options – Narrow Joints, Standard Joints

Hand Cut – fairly straight, but with small deviations along the edge, and corners that can be slightly rounded and not true/square

Pointing Options – Standard Joints

Tumbled/Time-worn – deviations and small jinks present on the edge profile, and these will be more rounded/softer, with rounded corners.

Pointing Options – Wide Joints
With straight/sawn edge paving slabs, you have more leeway to choose a narrow or standard joint. But with hand-cut edges and tumbled edges you will be more limited as the profile of the slabs will largely determine what is possible.
Joint Size

Edge Profile
Sawn/Straight

Edge Profile
Hand-Cut

Edge Profile
Tumbled/Time-Worn

Narrow Jointed
Pointing (3-7 mm)

Yes

No

No

Standard Jointed
Pointing (8-14 mm)

Yes

Yes

No

Wide Jointed
Pointing (15-25 mm)

Not Recommended

Not Recommended

Yes
Styles of Paving & Pointing
The aesthetic of paving joints is largely determined by the paving material used and by necessity the nature of its edge profile.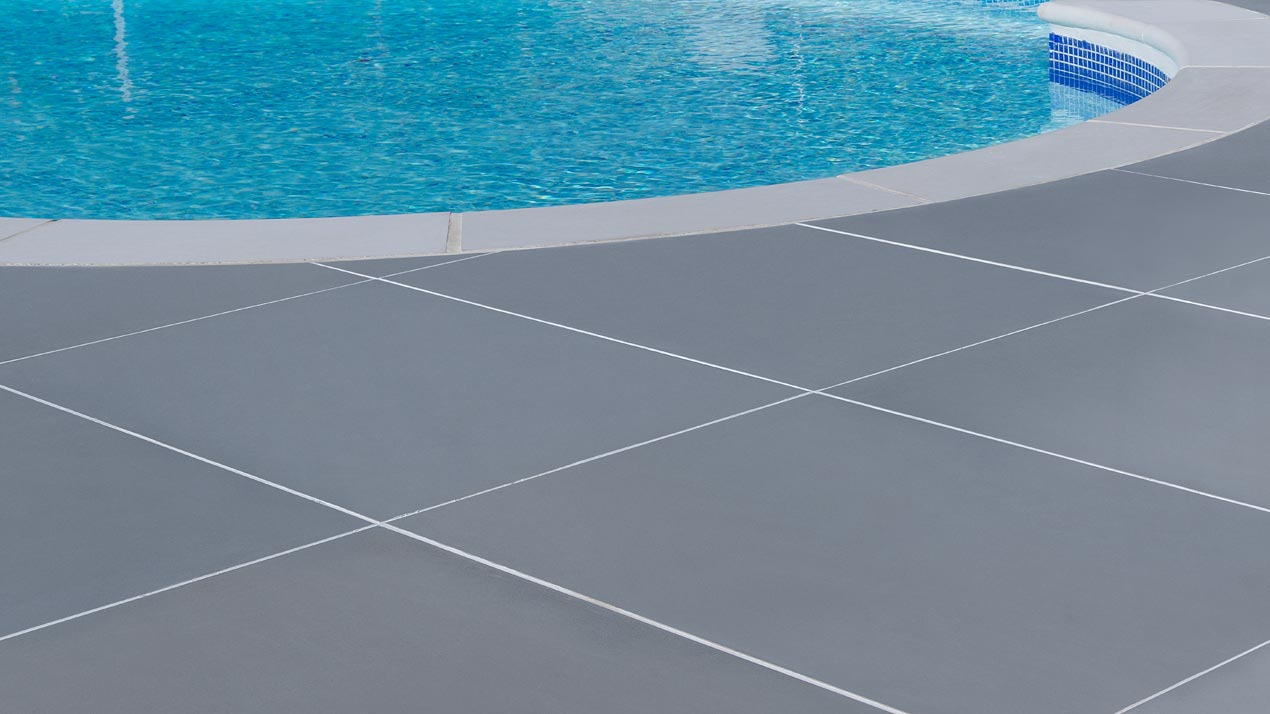 Contemporary Pointing Style
Straight-edge porcelain paving, sawn natural stone and pressed concrete is associated with narrow jointing. As these types of paving are of born of industrial/manufacturing processes, this means we see narrow jointing as being "more" up to date than standard or wide jointing. So, the association is that narrow jointing is synonymous with contemporary, minimalist aesthetics and the future.
[NOTE: You should always point and lay paving slabs with joints, and never lay them flush/touching (butt jointed). Slabs need the cushioning of the joint. Touching slabs are susceptible to damage where no allowance for dimensional tolerances from thermal expansion and contact pressure have been made. If they are laid flush, the edges will likely abrade and chip (shaling and spalling). 2-3 mm is the smallest joint you should consider using.]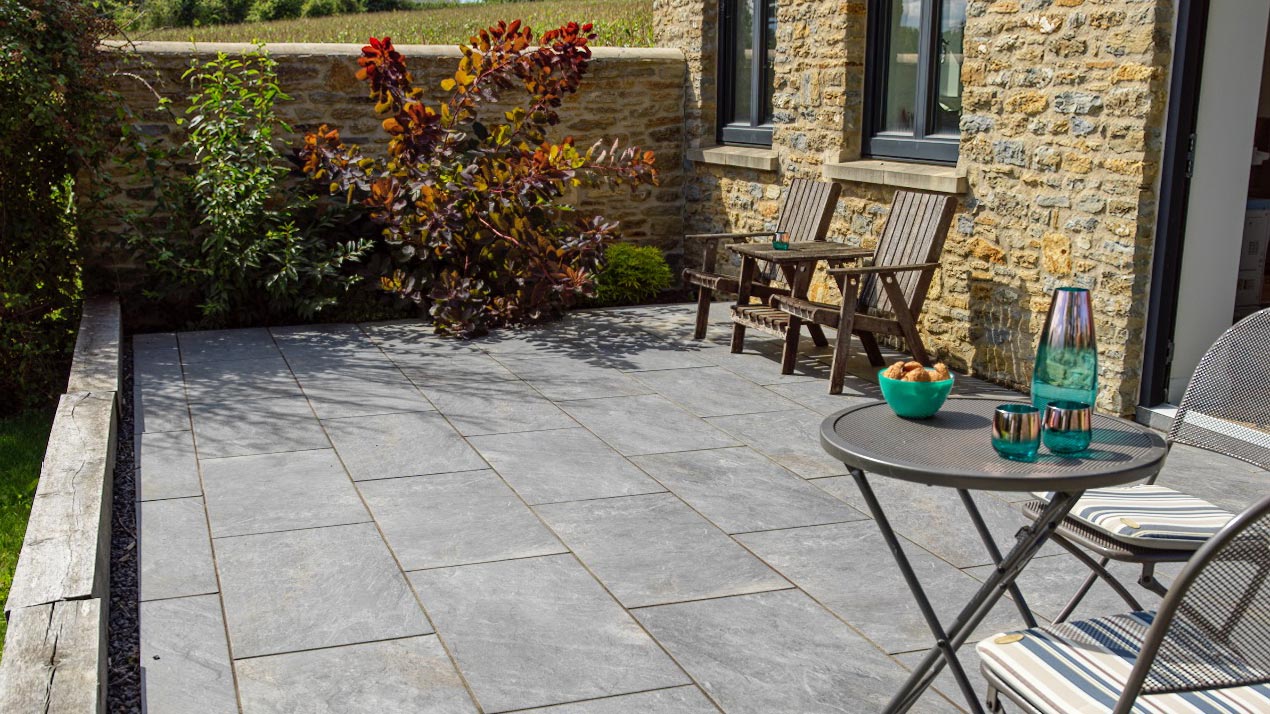 Modern Pointing Style
By modern, we mean industrial to post-industrial (Victorian – 1970s), the age in which the vast majority of UK housing stock was built. These houses have a broad range of garden paving that is both hand-cut and sawn/straight-edge. So standard jointing tends to be the norm and will work for a wide spectrum of garden designs and architectural styles (as can be seen in the patio above which juxtaposes sleek contemporary porcelain paving with a traditional stone cottage, but nods at the property's age by using standard joint width as an aesthetic bridge).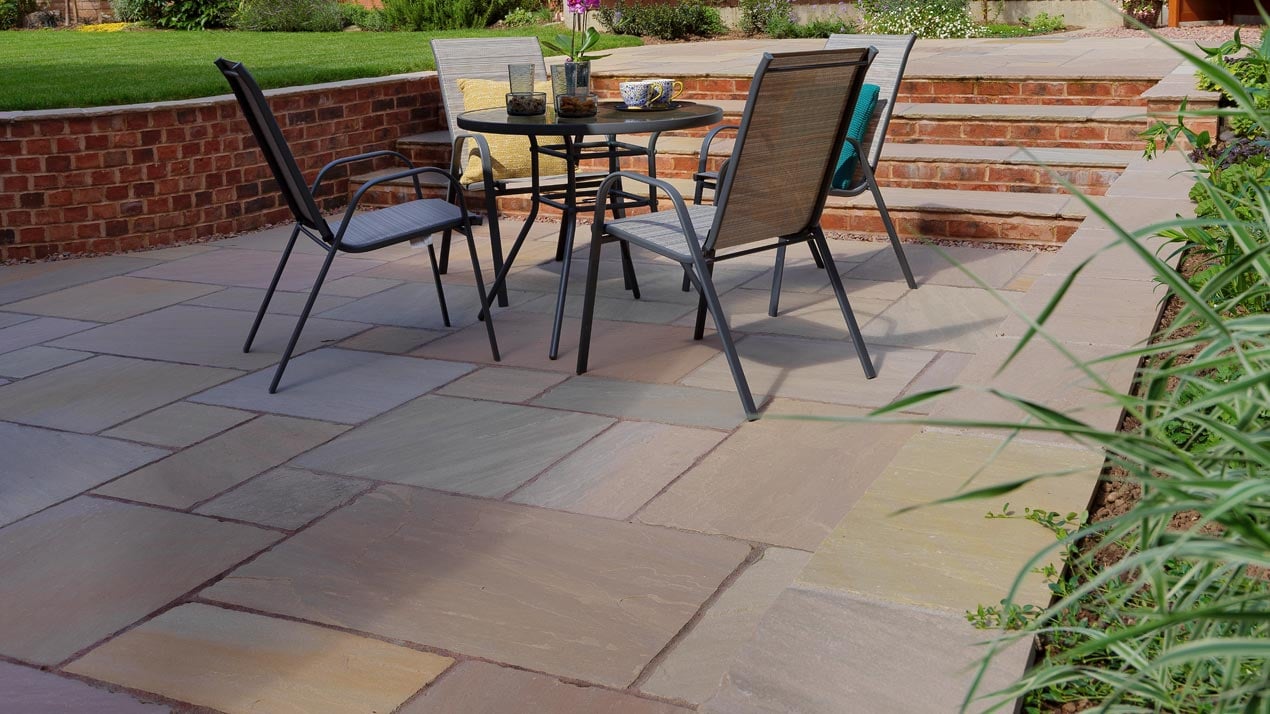 Traditional Pointing Style
Older properties and more rustic settings will tend to have more time-worn and weathered garden paving. If you're going for a more bucolic or period look and feel, then in all likelihood you'll be using a traditional flagstone style paving with tumbled or more irregular edge-finishes. So, by necessity these types of slabs will need wider paving joints – which in turn means wide jointing is associated with traditional/period/rustic aesthetics.
Conclusion – Which Paving Joint Width to Use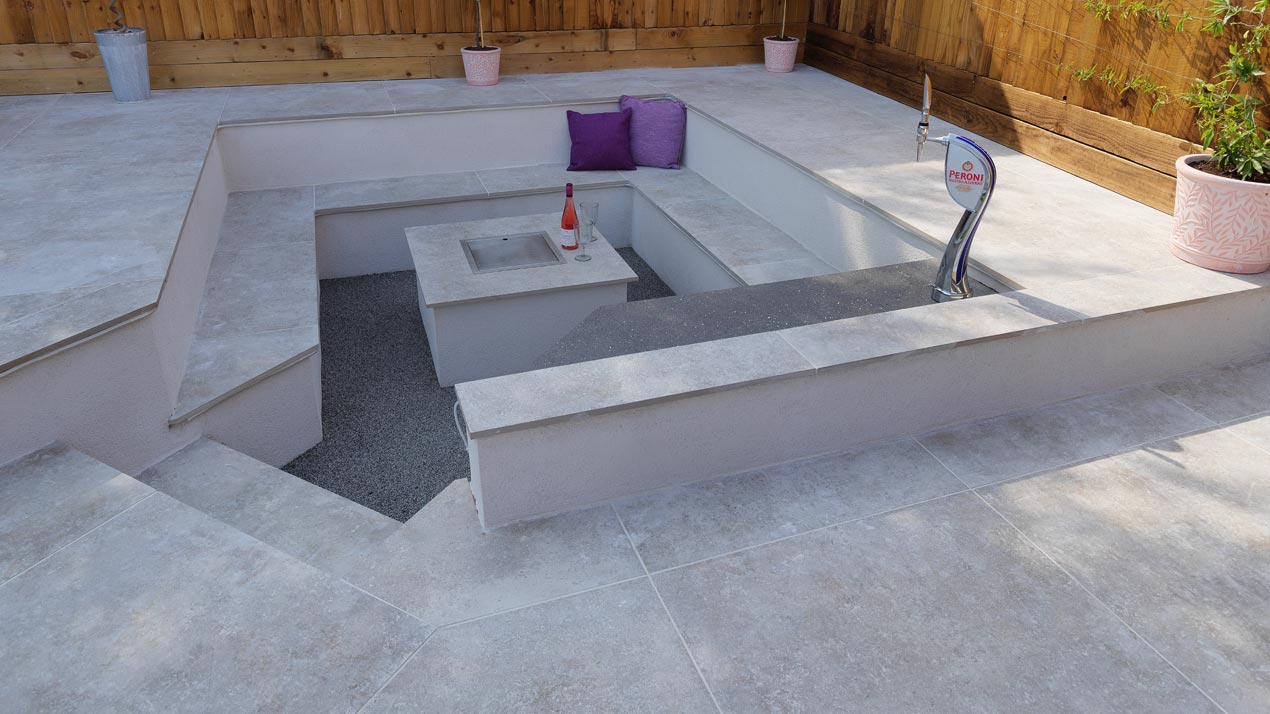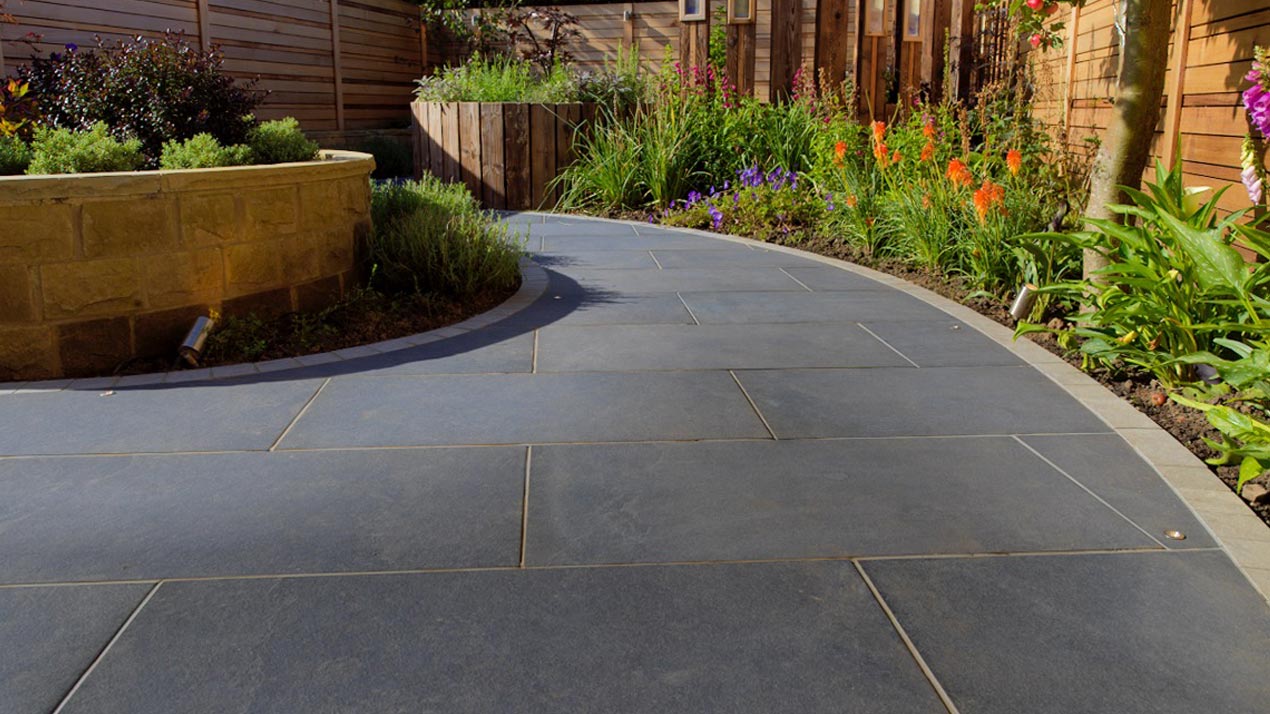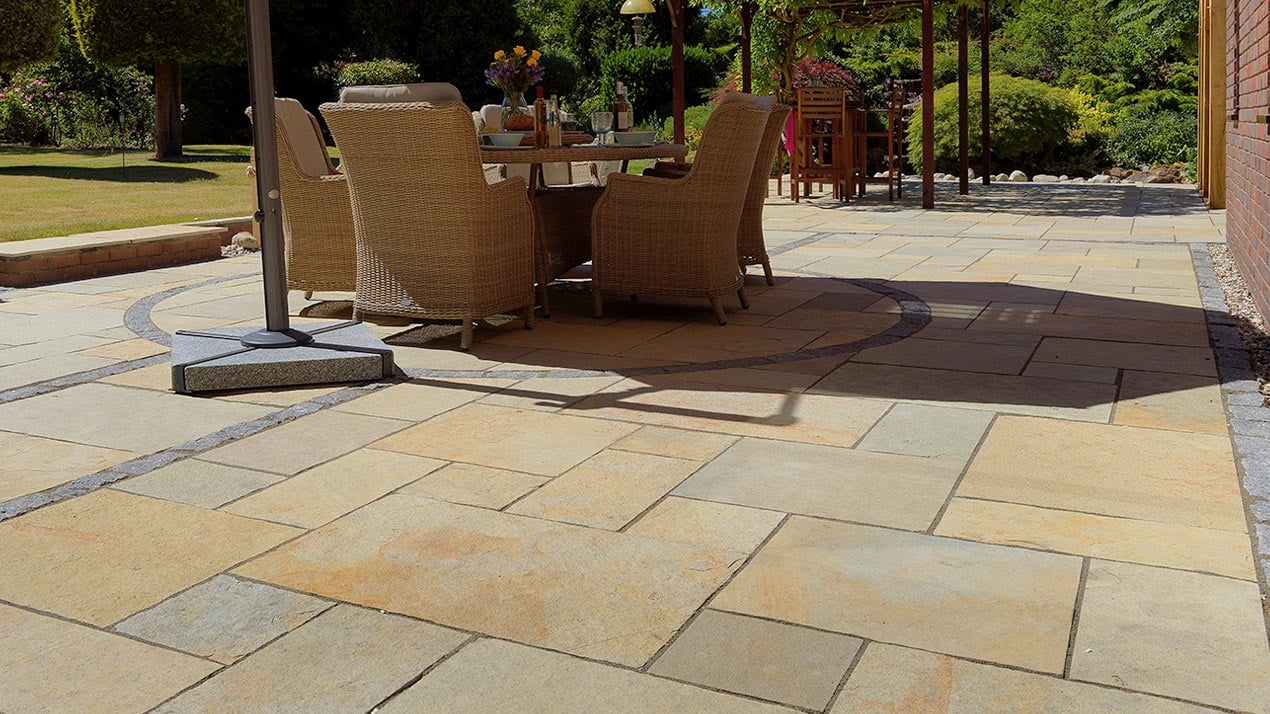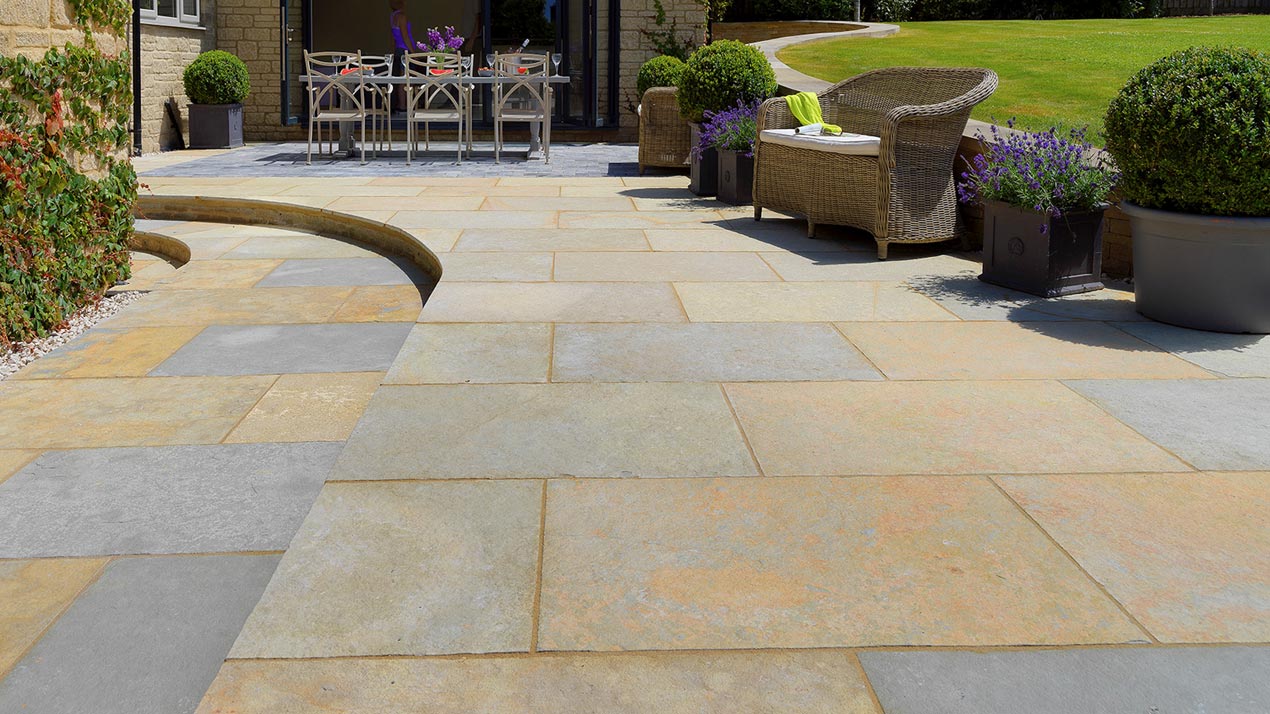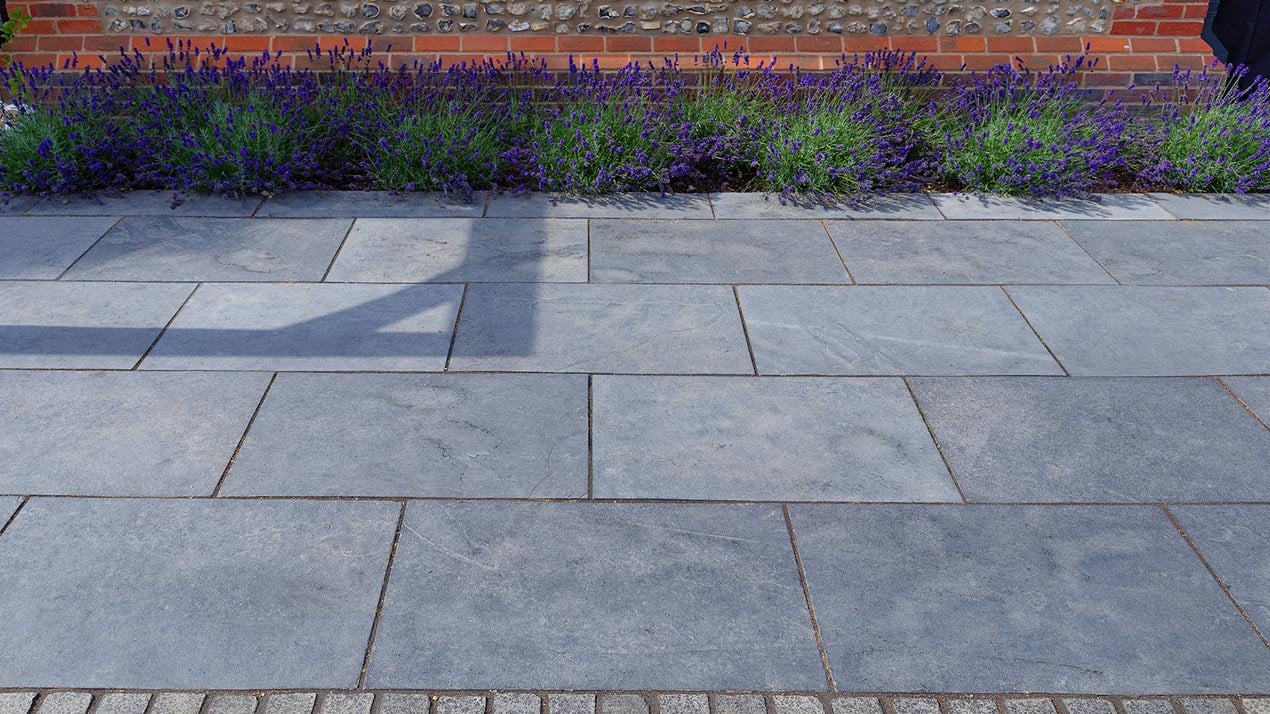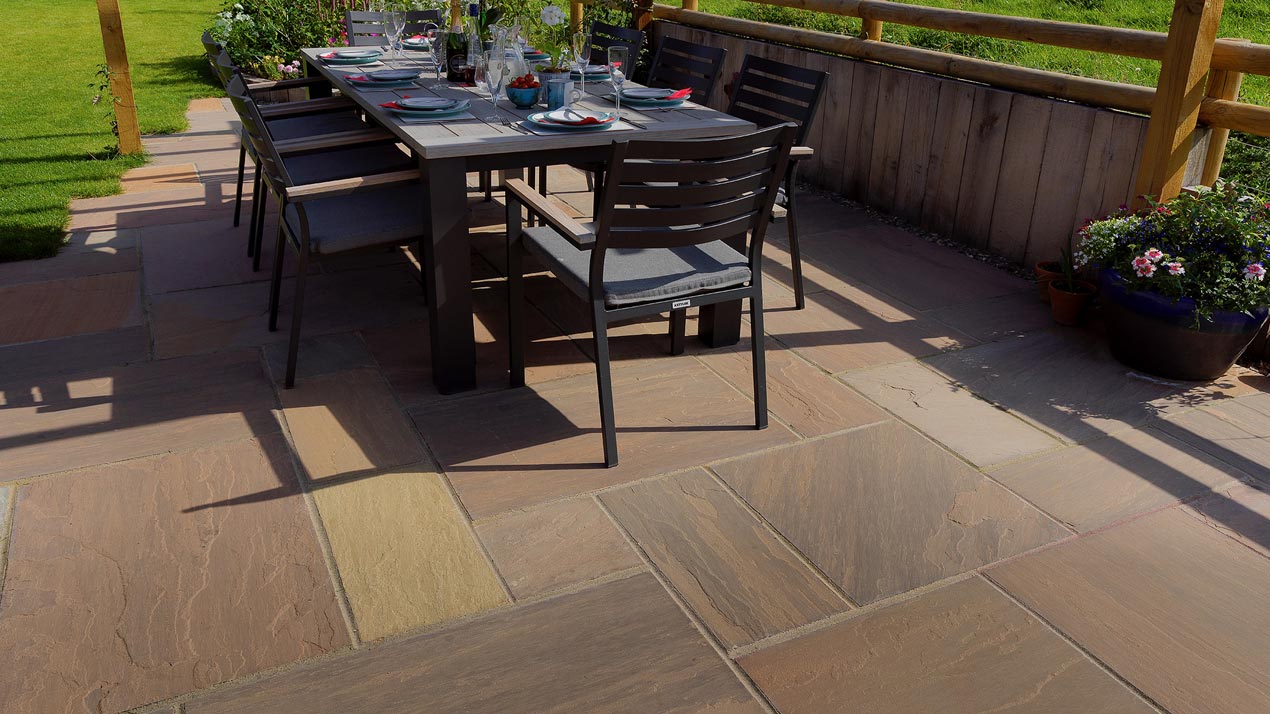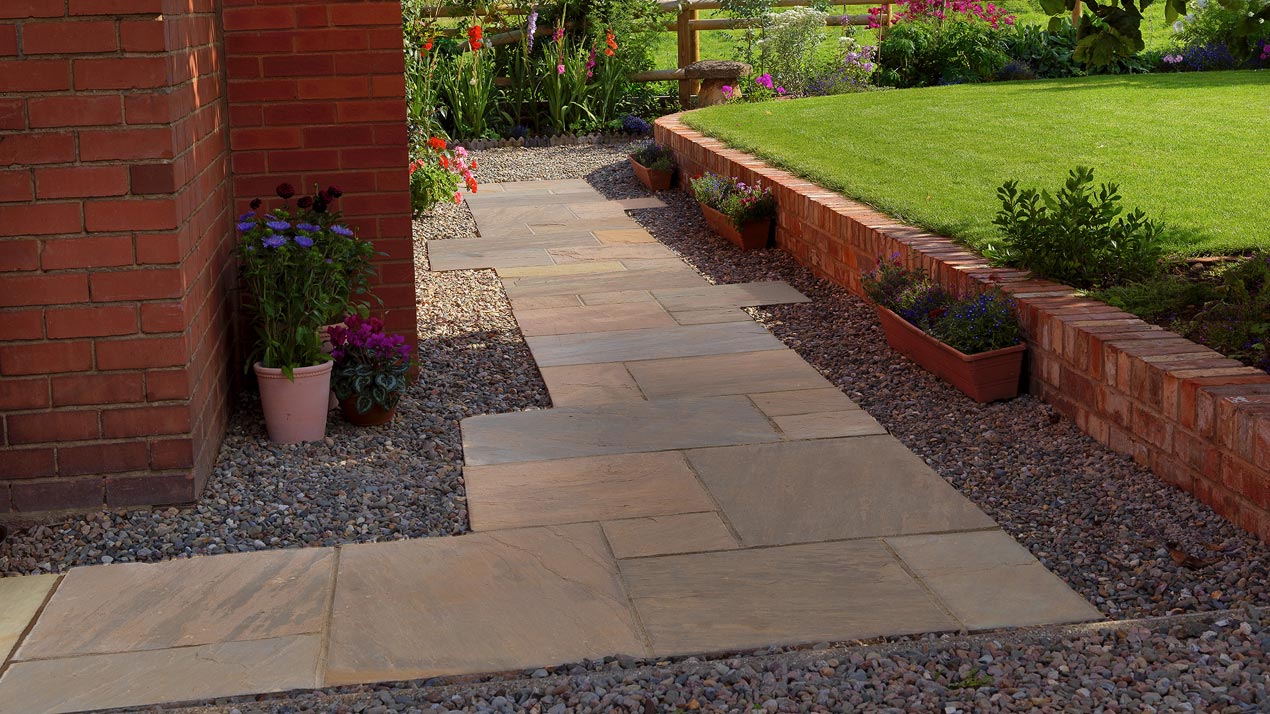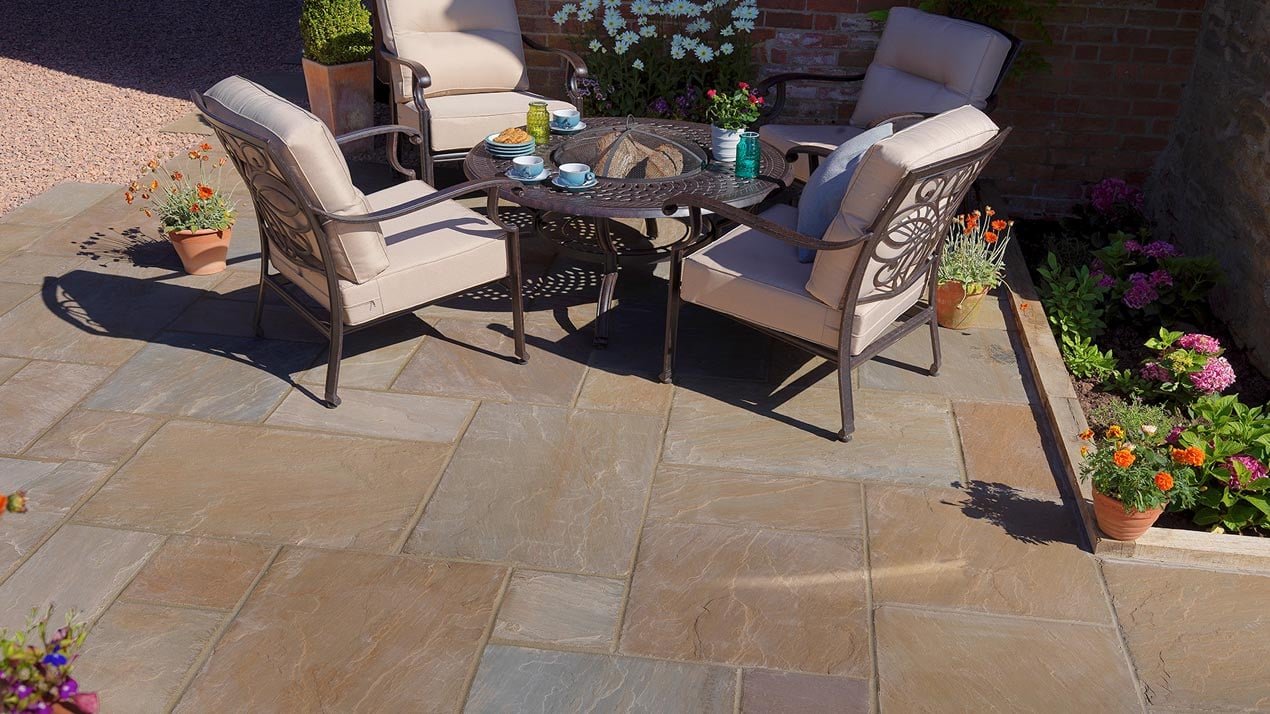 As discussed, whilst your property's architectural style will influence your decision, to a degree, what type of edge-finish your paving slabs have will determine your choice.
Sawn/straight – narrow or standard joints
Hand-cut – standard joints
Tumbled/time-worn – wide joints.
If you have any questions about your patio's jointing widths that you'd like to discuss, please don't hesitate to give our team a call for free and friendly expert advice (01993 608 824).
We stock a selection of high-quality grout and jointing compounds to help you achieve the perfect finish when pointing your patio paving.