With most unable to get away for the summer this year, Brits across the country are looking to transform their gardens to create a home away from home in their own backyard. According to Google Trends data, interest for "how to garden" is up by 150% from August 2016 to August 2021, with DIY renovations continuing to skyrocket even as lockdown restrictions are lifted.
How much could you save with DIY gardening?
Over the past year we have seen homeowners take on their gardens as a DIY project, getting inventive with recycling old items and landscaping outdoor spaces themselves. This kind of look is particularly popular as Brits are unable to get away in the sun and attempt to recreate a villa feel in their own home.
By doing some of the work themselves, individuals can expect to save thousands on the cost of landscaping and garden design. With some garden designers suggesting starting prices of £5,000 for a 100 square metre landscaped garden, many individuals are keen to get creative and try their hand at gardening this summer
Tasmine Williams from Guisborough saved £5,000 by transforming her garden herself, with costs amounting to just £700 for the whole job.
Tasmine commented: "We did the bulk of the work ourselves so it cost around £300 for the patio slabs and stones and a further £400 for all of the furniture and accessories such as rugs and planters."
Images from before and after Tasmine Williams' beautiful garden DIY project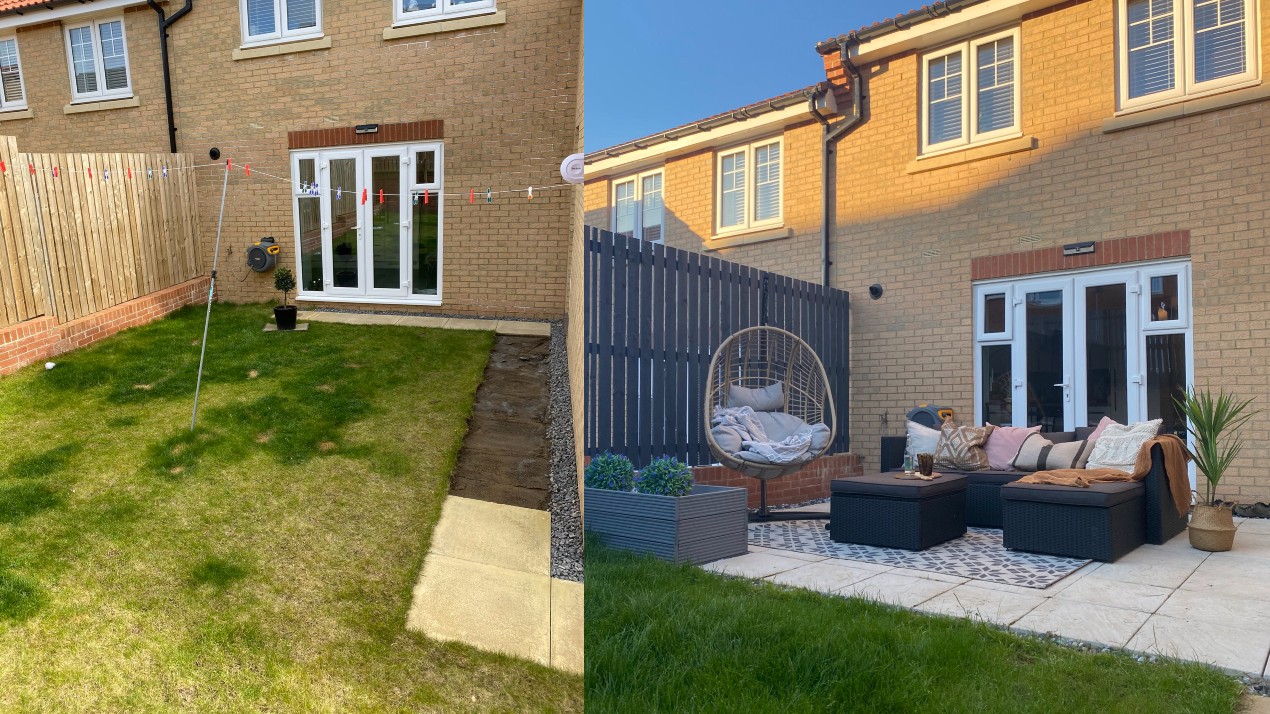 She said: "We live in a new build, so it really was a complete blank canvas in the garden! When the first lockdown hit, I was furloughed so I was dying for a space to enjoy outdoors.
"Initially all we had was grass, so it's a huge difference now. We've got a sofa and table where we can sunbathe, a hanging chair perfect for socialising and some lovely plant borders to add some colour."
With Tasmine's success in mind, we wanted to find out what the most popular garden DIY projects are at the moment!
The top 10 DIY garden projects on Pinterest
To uncover which gardening projects are on trend this year, we have analysed Pinterest data to find the most popular DIY garden projects to minimise your gardening efforts.
1. Improve your curb appeal
The top DIY garden trend for 2021 is enhancing your curb appeal, with 65,521 Pinterest pins. With the curb being the first impression visitors have of your home, Pinterest users are keen to make small changes to their front gardens by painting the garage door and transforming their mailbox to give passers by a pop of colour and charm.
2. Fragrant plants to repel mosquitoes
In second place with 56,748 pins are insect repelling plants for the garden. During the summer, barbequers are forced to bring citronella candles out in force to repel insects from their food. With plants like Catnip and Basil, garden lovers can relax in their outdoor space without fear of being bitten.
3. Hanging herb gardens
Next is a new spin on herb gardens, where keen planters have been attempting hanging herb gardens for their kitchens and outdoor spaces. Using mason jars and hanging wire, families can build miniature herb gardens which double up as display pieces. Hanging these herb gardens outside can help to add a new dimension to the space.
4. Creative garden planters
Creative planters continue to be a popular trend in 2021, with 28,257 repins. Here, individuals have the opportunity to get creative by using old items in their garden to make planters. Interesting ideas for planters include recycled plant tyres, wheelbarrows and old shoes.
5. Vertical gardens
Particularly handy for those with smaller spaces to work with, vertical gardening focuses on techniques to allow plants to grow upwards rather than horizontally. Vertical gardens also give an opportunity for gardeners to get creative with wooden pallets, old ladders or even bicycle wheels interwoven with the vertical space.
6. Tree stump removal
With a growing number of garden enthusiasts thanks to lockdown, some garden owners have taken to removing any unwanted trees or hedges within their space. By drilling holes into the tree stump and applying 100% Epsom salt and a small amount of water, garden owners can ensure the tree stumps they leave behind have died and will not grow new shoots over time.
7. Raised garden beds
Great for smaller spaces, raised garden beds are in seventh place with 24,788 repins. Adding raised beds can add another dimension to a space, also providing easier access to any vegetables or fruit you may be growing.
8. Outdoor play areas for children
With children spending an increasing amount of time at home during lockdown, parents have been getting creative with their garden space and projects. One popular DIY trick is to create an outdoor play area with a chalkboard, using chalkboard paint and a sheet of plywood or hollow wooden door. Once this is done, the chalkboard can simply be hung up or positioned in the garden for the children to enjoy.
9. DIY terrariums
As a partially or fully enclosed plant, the terrarium plant is perfect for beginner gardeners with its semi-self-regulating nature. With a few rocks, sand, crushed charcoal and soil, garden owners can create their own DIY terrarium using glass bowls, old spice tins or jars.
10. Creative garden markers
Perfect for involving children in your gardening, DIY garden markers are the tenth most popular trend with 22,789 repins. By painting and marking rocks with vibrant colours, gardeners can create plant markers for their vegetables and herbs to ensure they are easy to identify.
If you are looking to transform your garden and make the most of your outdoor space with family and friends, check out our paving slabs which are designed to help you create outdoor seating areas, stunning patios and pathways.