With budget garden ideas, revitalising your outdoor space doesn't have to break the bank – nor does it have to be too physically taxing! Whether you're planting, landscaping or refreshing your patio, adopting a DIY approach can save you money whilst adding a touch of personality. And recent research shows that it can do brilliant things for your mental health, too.
This guide offers 10 simple garden ideas on a budget. Along the way, we'll consider a range of inexpensive options you could explore when looking to give your garden some TLC, from simple flower-planting tricks to landscaping and DIY furniture projects.
1. Plant some bright new flowers
Although not the most innovative solution, planting new flowers is an inexpensive yet effective way to reinvigorate your garden on a budget, so it's a good place to start.
If you have lawned areas in your garden, you could consider adding in new flower beds along the edges of the lawn to bring in some colour and contrast – this can also work nicely alongside a paved patio area. For a smaller garden where ground space is limited, hanging flower baskets are the ideal solution.
As well as making the space brighter, banks of colourful flowers in your garden can also brighten up your day: extensive studies have indicated that flowers can have both an immediate and long-term positive effect on our mood and psychological well being.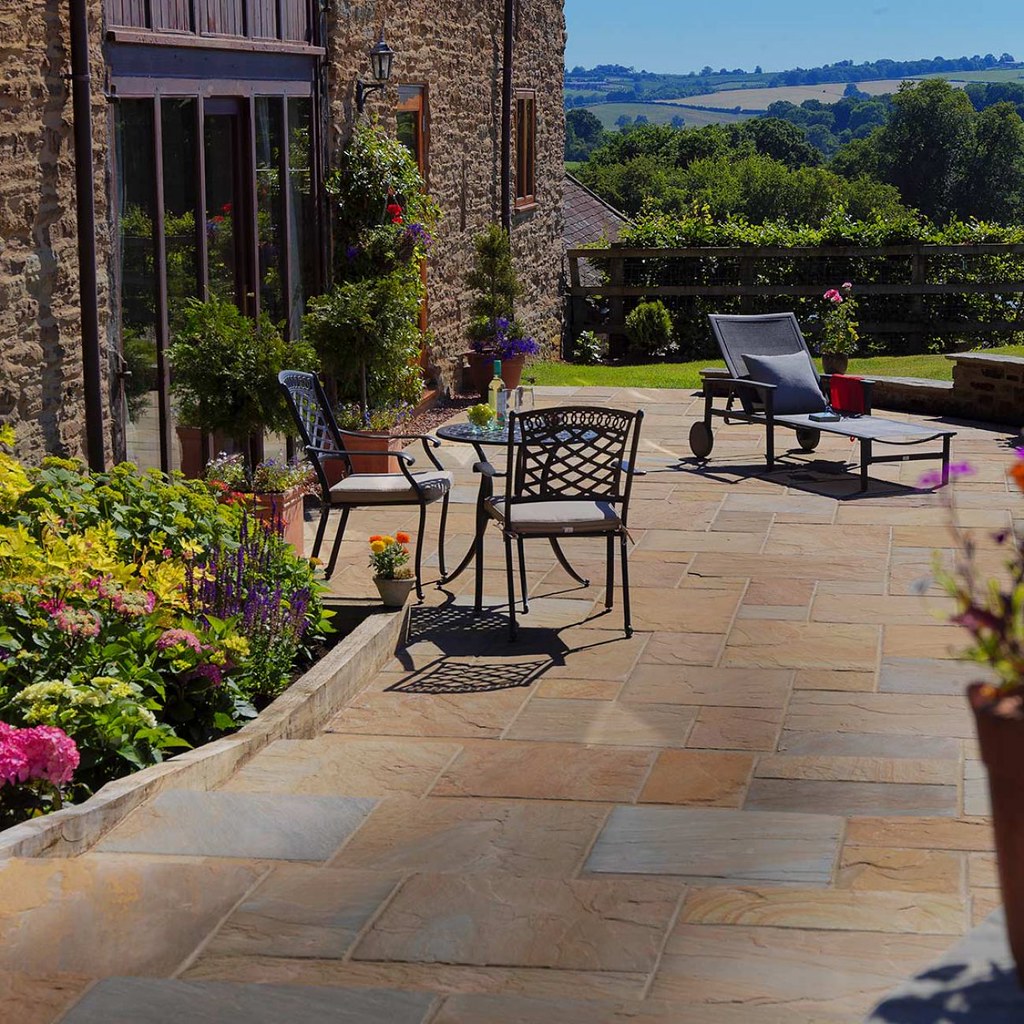 2. Cultivate some climbers
Sticking with the theme, many of the best garden ideas on a budget revolve around plants. Climbers such as ivy, wisteria and clematis combine attractive aesthetics with function and practicality.
A trellis with climbing plants can be used to partition your garden or provide privacy for an overlooked patio seating area.
If a fence or section of wall in your garden is looking a little worse for wear, cultivating climbing plants is an easy and cost-effective method for disguising worn patches without having to pay for a full replacement.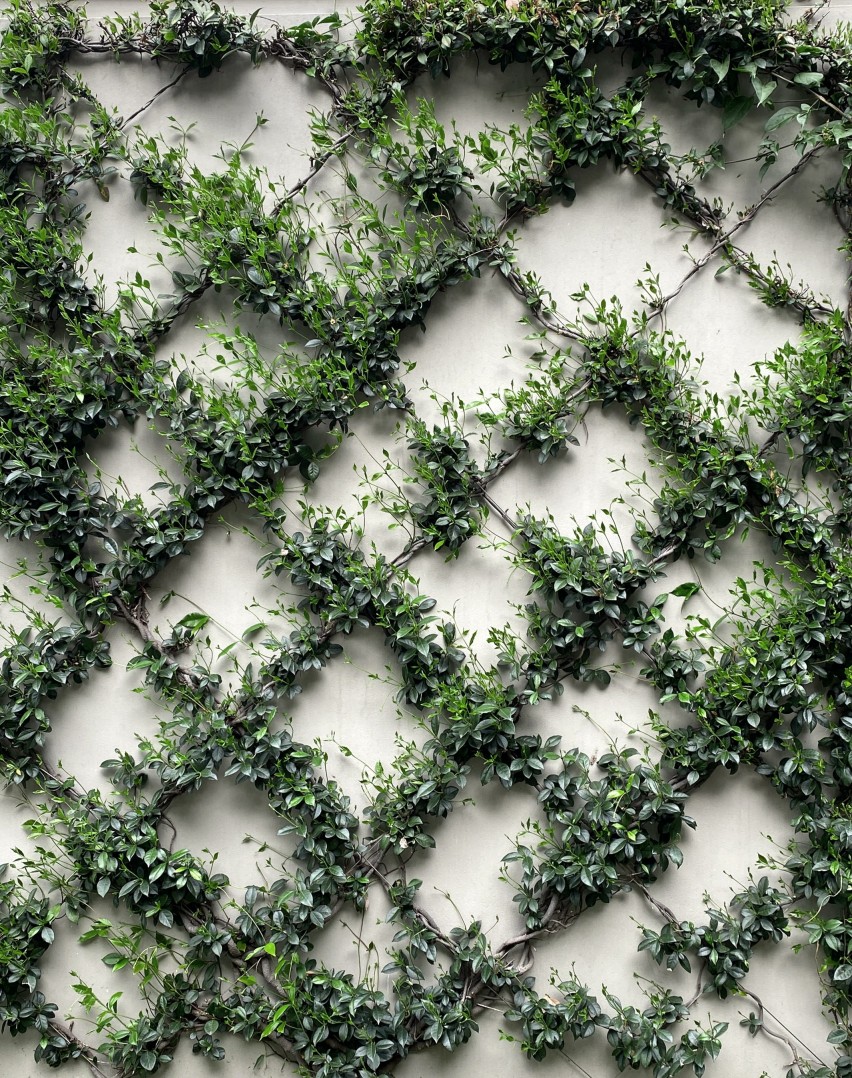 3. Shape up your lawn
One of the most simple and effective DIY garden ideas is to focus on your lawn. Creating defined edges for a lawned area can help to give it a more refined, cared-for appearance. If you don't fancy traditional lawn edging, you could try a contemporary timber lip or even consider assembling a rock border by hand (see our post on ideas for garden borders and edging for more inspiration).
Experimenting with lawn shape can also enhance the look of your garden. Smaller, urban garden spaces benefit from rounded or circular areas of lawn, which give the illusion of space and reduce the feeling of being hemmed in. Alternatively, straightening up the edges of your lawn can create a more formal, polished look.
Reshaping your lawn isn't too labour-intensive and can be little more than an afternoon's work depending on the size of the area. If you've already got the right lawn maintenance equipment, then this is also a way to give your garden a fresh new look at almost no expense!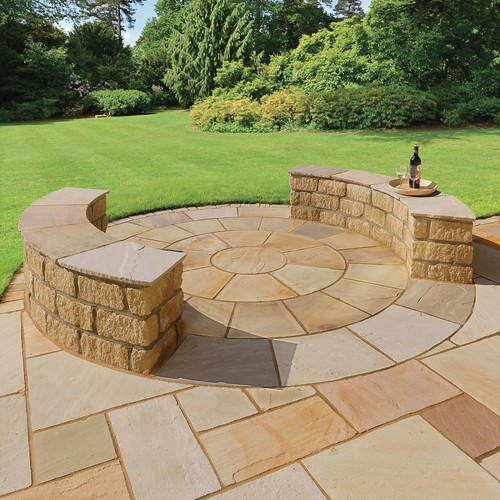 4. Install a DIY pond
If you're looking to have an immediately noticeable impact on your garden's appearance without splashing out too much, then a pond is an excellent option.
A pond provides a natural centrepiece. Not only can you make a statement with this feature, but you'll also be creating a new habitat in which plants and wildlife can thrive, turning your garden into a tranquil paradise that's a pleasure to relax in.
What's more, installing a pond can be done on a shoestring. You'll only need a few bits to get started, including:
A suitable area of garden
A spade
Pond liner
A spirit level
Some sand and large rocks
A plank of wood
Some rainwater collected in buckets
A range of pond plants (and some fish if you'd like!)
You may already have some of this, and the rest can be sourced on a limited budget.
If you're considering a pond as a simple budget garden design idea, then take a look at The Wildlife Trusts' guide on how to install a wildlife pond for further information.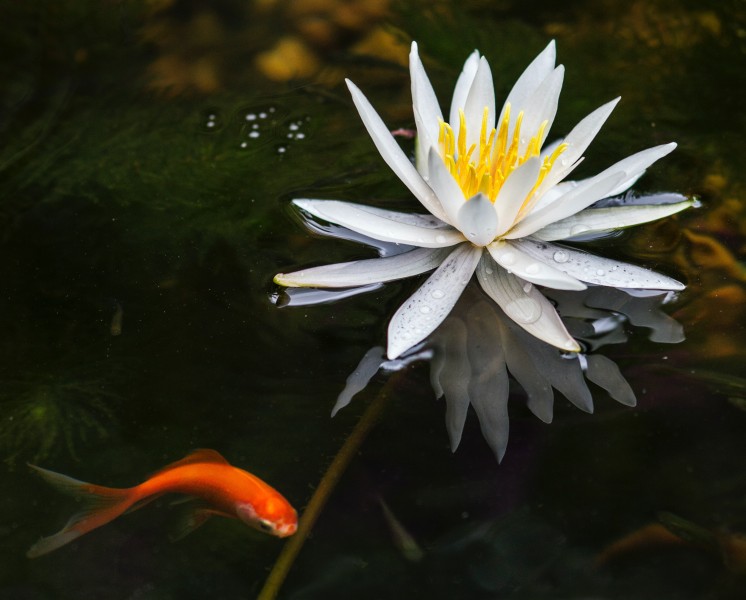 5. Craft upcycled garden furniture
Revamping or 'upcycling' old furniture is something of a trend at the moment, but it's also a great way to minimise your impact on the environment and keep costs down when doing up your garden. With a little TLC and some paint, you can turn even the most dilapidated item into a stunning new focal point.
Some suggestions for crafting your own upcycled garden furniture include:
Repurposing wooden pallets – paint wooden delivery pallets in pastel shades and stack them up to create a bohemian outdoor coffee table or add some cushions to make a comfortable bench.
Create a trellis – make a low-cost trellis by positioning an old ladder against a fence. Cover with fragrant trailing plants like star jasmine to give your garden a natural shabby chic look.
Pick out some improvised planters – from worn-out wellies to old tyres and kitchen sinks, there could be plenty of suitable containers lying around your home that could be put to use as planters. Get creative!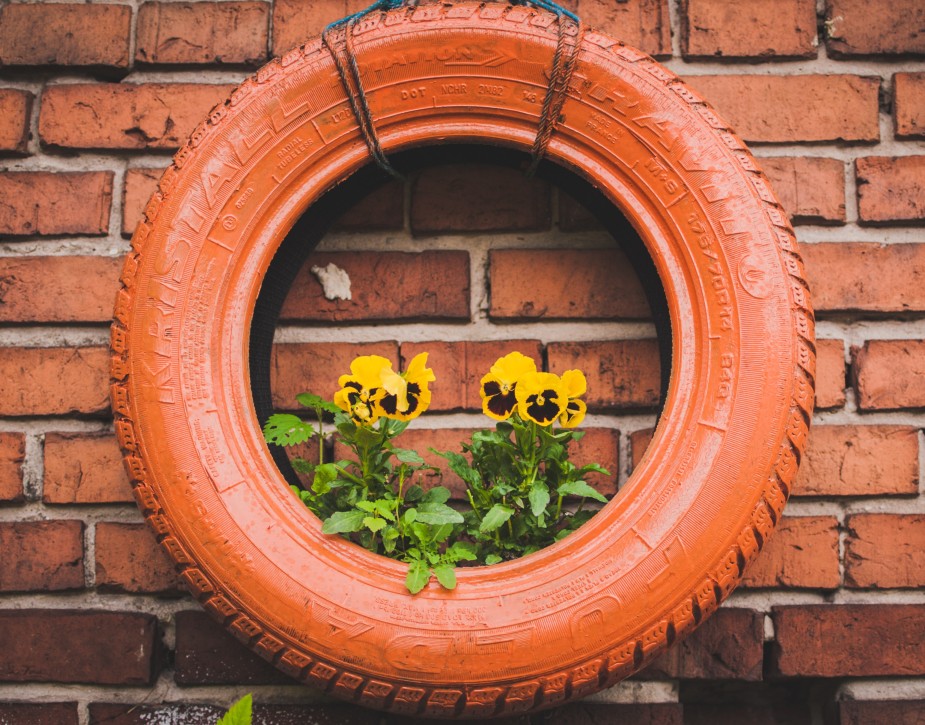 6. Seek out deals on a budget-friendly centrepiece
If upcycling isn't your style – or you're looking to make more of a luxurious statement – then you may want to shop around for a budget-friendly centrepiece. You can make great savings on garden ornaments and accents by looking for deals online. Even lavish items like opulent-looking waterfall fountains can be sourced cheaply if you time your purchases around seasonal sales.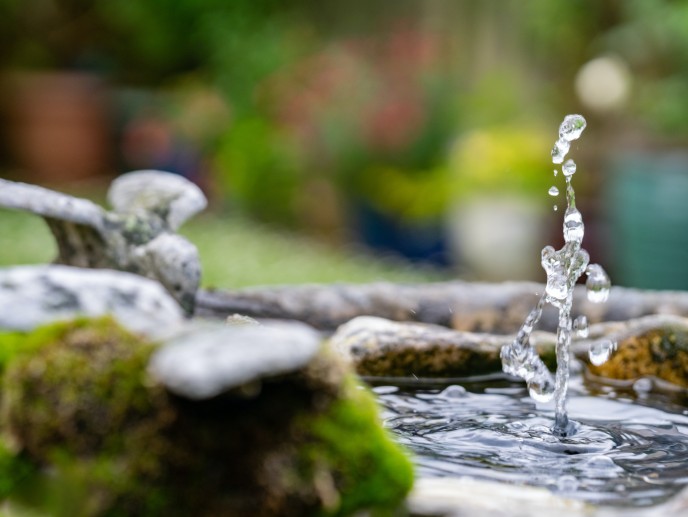 7. Build a DIY outdoor kitchen
Designing and building your own outdoor kitchen is one of the more modern garden ideas on a budget. A stylish new outdoor kitchen can be an expensive addition to a garden, but it doesn't have to be if you take the DIY approach.
All you really need to get started is a space to prepare food. Upcycle an old kitchen table or create a new worktop area using bits of material. For low-cost cooking facilities, integrate your existing BBQ into the setup or create a DIY outdoor pizza oven. To finish off, pair your outdoor kitchen with a herb garden planter, giving you instant access to the freshest ingredients.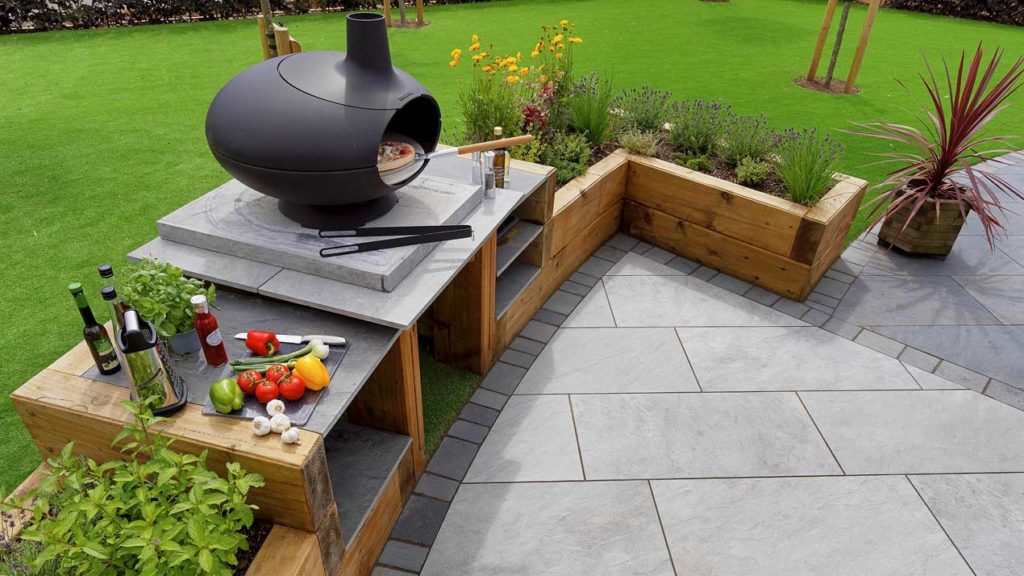 8.Breathe new life into your patio
Every patio needs some care and attention from time to time, and this is also a fairly economical way to reinvigorate your garden.
Start by sweeping up any fallen leaves, then clean away dirt and grime using a specialised patio cleaner that's suitable for the material (for example, porous natural stone paving requires a non-acid cleaning product). If you have concrete or natural stone paving, it's also a good idea to reseal it using a patio sealer to keep it looking revitalised for as long as possible.
Should you find that any sections of your patio have become badly damaged or scratched, you could consider replacing just a small part to keep the whole area looking neat. Try to source paving slabs or block paving from the original supplier so that the appearance is in keeping. To keep costs down, you may want to lay the new section of patio yourself. See our guide on how to lay patio paving for more information.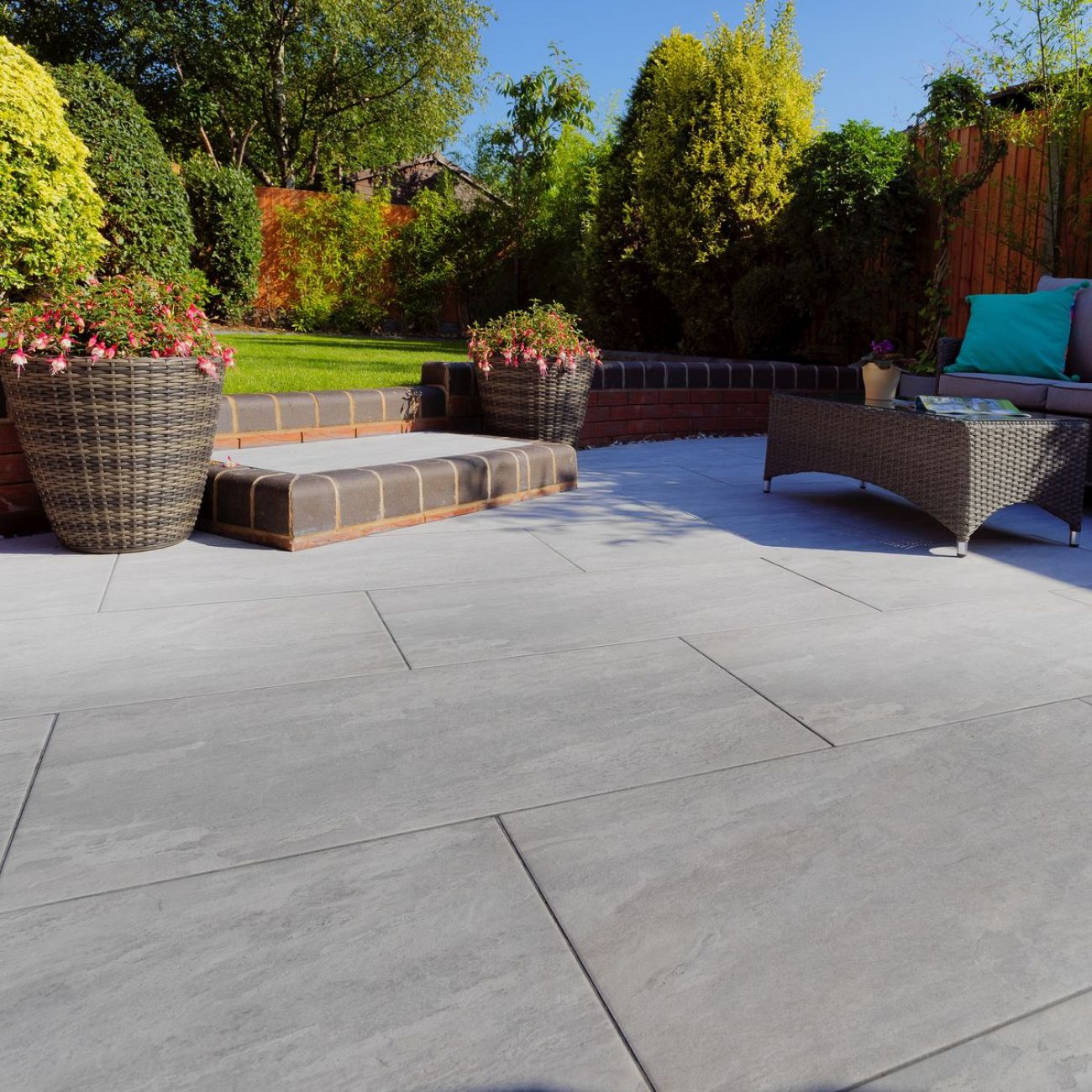 9. Give it a lick of paint
Of all the budget garden renovation ideas you could consider, repainting is one of the most affordable and straightforward solutions. This could simply involve giving your fence panels a refresh. Alternatively, you could embark on a more extensive painting project, tying together your garden shed, furniture and walls with a vibrant new colour scheme.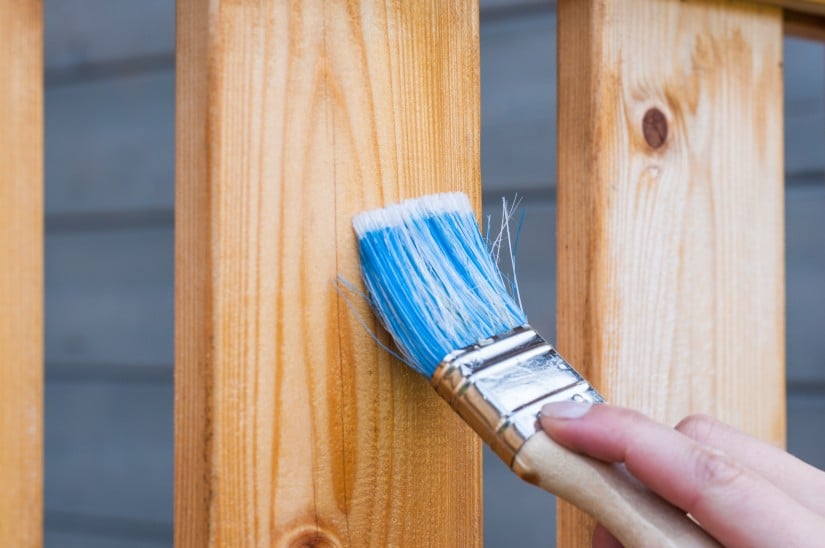 10. Let there be light!
New lighting doesn't have to cost the earth and can help to put the finishing touches on your garden redesign. Solar string lights are a trendy, eco-friendly option, providing the perfect glow to light up your garden parties. These can be hung from posts, on a pergola or even between trees. Uplighters along pathways are ideal if you're looking to create a sophisticated contemporary look, whilst tree lanterns give your garden a more cosy, rustic feel.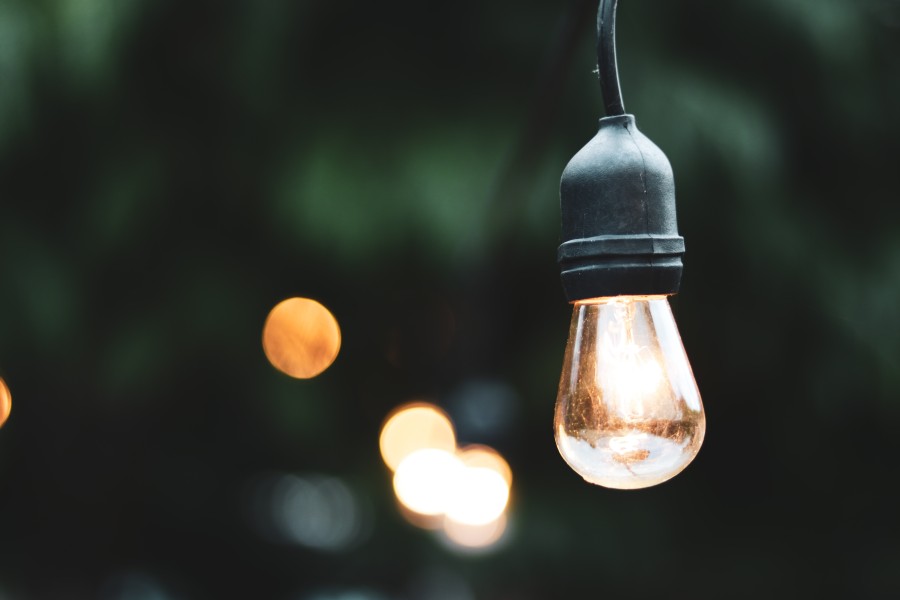 Next steps
This post has offered 10 simple garden ideas to try on a budget. At Paving Direct, we offer a range of products that can help you to renovate your garden in style, including:
If you've taken some inspiration from this, you may also find some of our other guides useful: